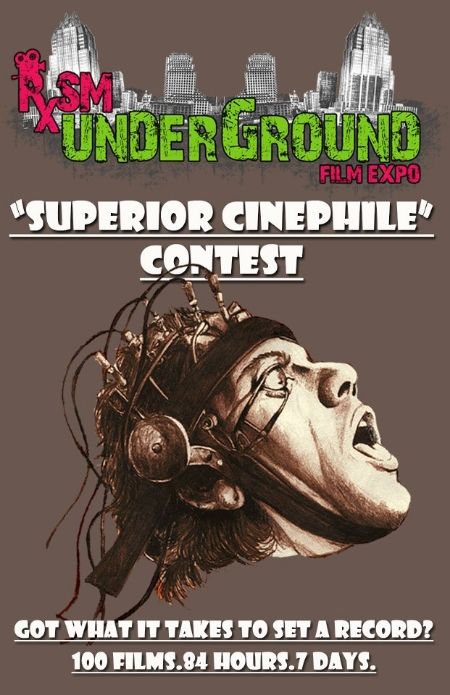 So you like movies huh?
This year RxSM has announced the Superior Cinephile Contest where 5 film addicts will be selected to view 100 films, in 84 hours, over 7 days

Only one will be crowned as the "Superior Cinephile"! Prizes include VIP passes to upcoming film festivals, cash money prize of $100, a sweet customized trophy, and an assortment of goodies provided by their sponsors.
If you are psycho about cinema, think you have what it takes and want to enter the contest please send an email about why you can win the contest (info@rxsm.com) and the good folks at RXSM will select 5 film addicts to compete for the title.
RXSM is March 8th through March 14th from 4pm to 4am. Austin TX.
www.rxsm.org
Les Sales Cons are slated to be musical guests during the after party for the film "Roundball" during the Victoria TX Independent Film Festival…
Formed around two Mcs and Beat makers Mac Traître and La Note, they will arrive with Dj Cut Edge on turntables.

By cultivating a pronounced disgust towards the rest of the world, Les Sales Cons
evoke songs about the manners of young human beings, sex, hypocrisy, stupidity, frustration and disasters, on a cynical, impertinent and sarcastic tone, but always with a critical content.

Les Sales Cons appreciate and don't forget that "the stupidity is the relaxation of the
mind"
Keep an eye out for our interview with Les Sales Cons soon.

One movie we are especially excited to see at the Victoria TX Independent Film Festival is Ghost Team One.

A hilarious look at the found footage genre and recent stampede of "Paranormal Activity" type movies, this film centers around a pair of not so smart roomates as they find themselves competing over a girl by making a documentary about the hauntings in their house.

Naturally, things get out of hand.


One film that we are really excited to see make it's way into the VTXIFF is xxx All Ages xxx, this is a documentary film that explores the early Boston Hardcore music scene from the years 1981 thru 1984. Unlike earlier films that were centered on the members of the bands, this film delves into the social and communal aspects of that particular era. The community, culture, straight edge and DIY (Do it yourself) ethic of the time are all explored in the film. Never before seen archival footage, photographs, interviews and dramatizations make up the body of the film.
The origins of the "xxx All Ages xxx" film project go as far back as September 1981. At the time Duane Lucia (Executive Producer) was the owner and operator of the Gallery East performance / art space located in Boston. The Gallery East provided an early "All Ages" venue making it instrumental in giving birth to the upcoming local "Hardcore" scene. Katie "The Kleening Lady" Goldman (Producer) was a communication major and radio personality at Emerson College as well as a driving force in the burgeoning local hardcore scene. She was involved with the promotion of all ages hardcore shows at the gallery including The Mighty CO's which was fronted by fellow Emerson student Drew Stone (Director). In 2009 the three formed an alliance with the intention of making a documentary film focusing on the early Boston Hardcore scene. It was agreed upon that under the Gallery East name Duane Lucia would finance the project and assume the role of Executive Producer, Katie Goldman would be the film's Producer and Drew Stone the Director / Editor along with Alan Dubin.
Even cooler? Legendary band DYS is coming to the film festival to play the afterparty with a few other bands on the bill. This will be your chance to watch a great documentary on bands that helped define their genre of music, and watch on of the bands that did it live and in person.
One documentary we really want to catch is Stick 'Em Up! a movie about the illegal art street movement in Houston Texas. Watch the trailer it looks fascinating.
The film will be part of the after hours block on March 9th.
To find out about the programming for the expo (the schedule is now up!) go to
www.rxsm.org
Hey Austin, in case you didn't know, you tried so hard to be cool, you became a cliche. Just thought you'd like to know, and you're welcome.  South by so what.
But… if you wanna be so cool the hipsters don't even know about it yet, you can always go to the RxSM underground film expo.
The film fest exists as an alternative for movie fans to get a cinematic experience during the month of March when a certain "other" festival runs. RxSM pushes itself to be even more cutting edge, as it includes films in it's programming that the "other" festival may not include or just have room for in it's program.
The best part is that the fest is created and run by independent filmakers who fight to maintain a voice among the piles and piles of mediocre stuff you will be subjected to in the city of Austin that month.
The showcase will run March 8-14 from 4pm to 4am.
RSVP's are now open for RxSM Film Expo 2013 at Emo's East Plaza.
RSVP at: ( http://www.facebook.com/rxsm.filmxchange )by becoming their friend. Your name will be exported to a private guest list where you can enjoy film screenings, intimate celebrity interaction, and of course unlimited complimentary spirits thanks to their sponsors. This is a private event and you must RSVP to attend.
Programming:
The screening schedule will be announced mid February. All details will be released exclusively via Facebook. So friends this means you can receive up to the minute live feeds of 'whowhatwhenwherehow' at RxSM 2013.
You're welcome. See you there.
website: http://www.rxsm.org
Last year, we had the unique pleasure to cover an event that happened in our own backyard that brought music, art and film to a sleepy little city we call home. From a local's perspective, it was a much welcomed display of diverse culture that had our town talking. It was refreshing to see a legit film festival programmed and brought to Victoria Texas, and it taught the community that there is more to local life than the typical blockbuster. Of course, I am talking about The Victoria TX Independent Film Festival.
The event itself is a four day festival that is designed to inspire and champion independent artists while introducing the local community to the drive, passion, and work done by independent film makers. Since it's inception, the concept has grown to include music and visual art as well.
The festival will show over 50 films, include art shows (with live demonstrations planned) musical performances of bands featured in documentaries, live music recordings, as well as free events, children events, interactive Q&A's with the film makers and so much more… and yes… it's happening here
The thing we love about this festival, is that there is always someone out there, who says this cannot be done. There is always a naysayer who would say "That will never happen here" or automatically dismisses an event because if it is in a 100 mile radius of our town, it must not be "cool". There are many reasons for this I suppose. Maybe they wish they could do something meaningful, but since something is hard or difficult, they just give up, and bash others that dare to support and work for something they believe in. Maybe something different that they do not understand frightens them, and they would rather not support it than expand their horizons. I am not sure why. But despite all the red tape, town politics, the boring status-quo ("But this is the way we've always done it"), we were lucky to see it last year, and watch ringleader Anthony Pedone and crew pull off an amazing feat last year.
I guess the feeling was mutual, because this year, instead of just covering the event, the crew here at the OMBG podcast was invited to join the staff of the festival. Yup… we are going to be chronicling the road to the film fest with news on events, interviews and films to look out for, hosting music performances, spreading the word through new media channels, and even… helping out with a zine for those who love independent press. It's a big task, but when it comes to supporting what we believe in, we are going all in.
So keep an eye out for news and events here and on the film fest's webpage.
Victoria TX Independent Film Festival Website
You don't have to wait for months to get excited, we are going to be steady releasing information about VTXIFF starting with this post and carrying through the event. As indie art advocates we are ready to walk our walk. I hope you are too.
This week, we are debuting new songs from Crankshaft and The Gear Grinders from their new album to be released on Feb 5.
Seriously impressed with the new trailer for Man Of Steel, which is the new Superman movie. How it all plays out we will have to see, but for now I'll admit, I'm pretty interested.
Like the rest of you, I heard the news today about 4pm central time that rocked my news feed. I had been debating on starting to write again, but really wanted to wait for something important or to rile me up to make me write something that made me think… and rant.
Than this came along: "Disney Buys Lucasfilm for $4 Billion"
That didn't phase me until I read: "Episode 7 due out in 2015″
I remember the Marvel buyout. How everyone freaked out (including me) but y'know… Over the past few years, Marvel hasn't lost their identity. As a matter of fact, the movies have been pretty good, and I'm still reading. Like the video suggests, Disney has let them keep their identity, so I am hoping that they do the same with Star Wars. My brother sent me a text that is sums up everything:
Hope For The Best, Prepare For The Worst
Yup. That's about it…allow me to elaborate
WHY I LOVE STAR WARS
You see… Star Wars is life for me. It's important and I love it. I'm not just a fan, I love it. I'm not a cos-player, I don't own every toy or collectible that came out. I do not believe these are things that are needed to show my love for these films. My best childhood memory is watching Empire during a matinee and then my parent's saying "stay seated" as the movie started over again. I remember waiting the three year wait to see what happened to Han, and instead of cowboys and indians, the kids outside played "Rescue Han from carbonite" as we all debated and schemed how the Alliance would save him. Then I remember the day, sometime after 3:30 in the afternoon (Laverne and Shirley was on) when the movie trailer hit the airwaves. My brother and I jumped and screamed for joy on the bed as we watched our little black and white television set in my parent's room. I remember that wait more than any of them. It was important and it was also the last great thing of my childhood because after ROTJ, Star Wars only lived in my heart for many years. There were no VCR's (we couldn't afford one) and as I got older, my mother sold my toys in garage sales. But it lived on you see… in my heart.
It sounds silly to you I guess. I do not expect most people to understand. But I was a kid, living in a rural town which he hated and saw something that lifted me up and made me happy, I cannot put it into words. I have written about Star Wars so many times I have NEVER gotten it right. These movies shaped me. They made me a better person. They taught me to always save the princess (even if she didn't think she needed it) to always stand up for myself no matter the odds, the Jedi way taught me more about being a good person than years of Catholic education, and here I am… Still looking to the stars. Still trying to take my shot. Still believing that one person can make a difference. I do not apologize for that. So while some may think it's just a movie, and I am over reacting. Fine. You do not know what it means to me. You can't ever know, and I am not saying you don't have a right to not like SW, I'm saying that you can't possibly hold it in the regard that I do. It is sacred to me. Sacred. I will demonstrate.
1) I don't give two flying shits about Disney buying Lucasfilm. There. I said it. I don't. They can make all the movies they want. Despite my momentary lapse in anger when I saw that Disney bought Lucasfilm (I'll tell you why later)I was worried about Episode 7 and the rest of SW. But then I remembered my Star Wars.
My Star Wars is not tainted with Special Edition effects and bonus scenes. My Star Wars does not have Gungans and people who are starving on a lush green planet due to a blockade by the weakest droid soldiers in the system (I think Samsung made them). No… My Star Wars is pure. It is a farmboy and a scoundrel, a wookie and a crazy old wizard. It is a strong heroine who is strong for the sake of being awesome, not for political or gender reasons. It is a classic storytale in a future setting. It is perfect. It is the reason a kid in Kenedy Texas decides to race down the slope of the playground and skid with shorts on catching gravel in his knees and only then deduces it is because he did not use the force enough. It is my brother and I drawing on pieces of butcher paper in the back of my grandmother's diner when we are about six or seven years old. It is when my siblings and I meet at the Star Wars museum for the first time when we are adults and embrace at the front of the door. No… you can make your movies. You can change them. You can sell them. But you cannot take my Star Wars away from me. My Star Wars is perfect and lives in the memory of my mind.
2) I am mad at George Lucas for selling. I know I know. Some of you are saying "Good, he won't have anything to do with them." But let me tell you something. You can be mad at George all you want, at least they were his. They were his to make and his to destroy. Now… they aren't. This makes me mad and sad. Let me explain.
George invented this. He invested in it when no one believed in him. He became stinking rich. THIS is the ultimate American success story. America has lost it's gumption. We lost our heroes. No one invents anything anymore. If you write a comic for Marvel, guess what… Marvel owns it. If a musician is not careful and signs a contract, their music becomes property of the label, if you invent something at your work, it becomes their intellectual property. That's the whole reason Iron Man was written. It was an inventor in a corporate world. It's all about keeping his invention and not surrendering it. George invented (and abused) his own creation. But it was his to do so.
Was George hurting for money? Nope. Were they foreclosing Skywalker Ranch? Nope. He just got rid of it. He says he wants to go and make his own movies now. I hope he does. I hope he takes his 4 billion dollars and makes those little movies that only 4 billion can make. But am I mad that someone would take his invention and give up? Yes. Yes I am.
3) I hate Mash ups and Memes and wish people would stop posting them. If you are doing this… I cannot stop you but let me tell you why I hate it. Remember that thing I said about Star Wars being sacred to me? I meant it. I revere it. I love it. I love collecting black and white photos of the set, and concept art for my walls, I love reading the extended universe and playing the video games. I love the pure Star Wars canon. What I hate is everything that cheapens it.
Spurs fans who wear "Obi Wan Ginobli" Tshirts, Star Wars M&M characters,  Darth Vader helmets with Mickey Mouse ears,  memes that have Yoda marrying an ewok and producing a mogwai… This is not Star Wars. This is a cheap ploy to sell a shirt or product or even worse, to get a cheap laugh off of facebook. There is no redeemable value in this other than someone thinks it's "cute" or "funny".
I realize though, that I am a small minority. People will continue to shit on the genre I love and also claim to be a fan, but in reality posting something like this does not pay homage to Star Wars, it does not revere it. It cheapens it, it makes it something that others can toy and scar. It lets the mainstream grab a better hold on it eat it and shit it out. Then… we get things like Star Wars dancing video games and Pluto Kenobi.
4) I weep for the younger generation. There I said it. I'm sorry to those that see nothing wrong with this. I guess it is age. (so what, the name of the podcast is old man and bitter girl, so get used to it) It's not because I think I am cooler than you (I am) it is because you will never "get" what I'm trying to say. Even if you do.
I am sad that kids will never get to see it like I did. I have a memory that cannot be taken away. I'm sorry they have to put up with bonus scenes and Han being honorable. I am sorry they will not have that anxious feeling of driving an hour and a half just to get to the nearest theater. I am sorry they will not have that awesome feeling of the greatest Christmas ever opening that original Falcon. They will have to make do with their Harry Potter books and their Pokeman. That's fine, but for me, there was only one love that opened into others, that paved the way. They will not have that, and that is a little sad.
Star Wars is for the kids. It isn't for sad old men like me. It did inspire me to create, to write stories, to write for pop culture websites, to get into punk rock, to become a musician, and even to make this podcast. I hope that it does the same for new generations. This is why, if any money grubbing soul feasting corporation will steal it, I am glad it is Disney, who will do whatever it has to to make a profit, (which hopefully means keeping it in the same spirit) I can only hope for the best, and pray for the worst.
I will never be that guy who claims Lucas ruined my childhood. I had an awesome childhood thanks to these movies. I am not the guy who hates things because I liked them first. I am the one who hates things who become ruined because the mainstream latches on to them and changes them. Every year, I deal with it happening. I see as comic conventions get worse every year (Dallas' comic con last spring was crap and last weeks Wizard World Austin was the most expensive waste of money ever) Shows like "Arrow" are made and shoved down our throat, and great creators are pushed aside so Wizard World can put out "The Situations" comic book. THIS is what bugs me. We let it happen.
I hope that Disney does not take the bait. I hope that things still stay cool. I am the sucker who will still keep buying the ticket no matter what, so I guess they win anyway.
They win. You win. They all fucking win.
Hope for the best, expect the worst.
Get off my lawn.