Rubio and Crispy from The Antagonist Movement sit down with us to talk about the movie "The Dolls of Lisbon" and their projects.
Interview by Timothy Danger.
Listen Now :: Antagonist Movement Interview
We met up with Ted from Never Records and Jason who directed the film NEVER RECORDS YOU ARE NOT LISTENING, to talk a little about the movie which made it's first ever debut last night.
In true NEVER RECORDS fashion, he recorded it using his equipment and cut it to vinyl.
Interview by Tim Danger.
Listen Now :: Interview with Never Records
We've known light painter Jake Ramirez (aka Sumerian Lights) for a while now,  and when we met Stohead and spent a small amount of time with him, we knew we had to hook them up for a collaborative effort.
The concept was easy enough, Jake's light painting skills with Stohead's street style to make a virtual graffiti. While Stohead had been in Victoria for a few days, he was having a hard time getting businesses and buildings to give him permission to paint. "It's depressing," he said, "This place is blank." Light painting was the perfect answer.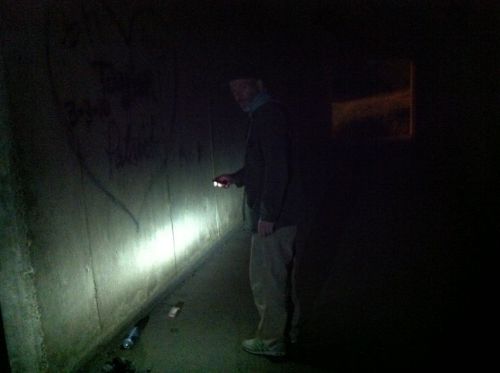 After scouting a tunnel, the two quickly set up and went to work. Film makers Boris Castro and Karla Lemus captured the action on film, and everyone there was in awe of the way the two worked. Later Boris commented to Jake he had not seen two artists get a long and quickly sync up so quickly. The results were amazing.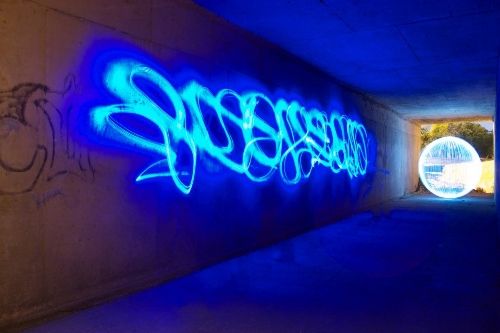 The first night was an amazing outing, but the friendship and collaboration has continued as Jake went on to do a time lapse photography session of Stohead's Mural downtown.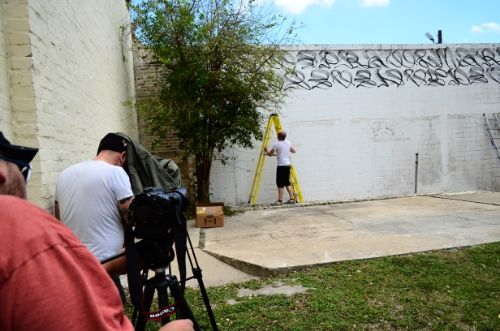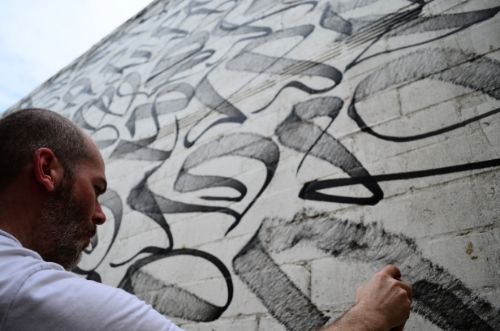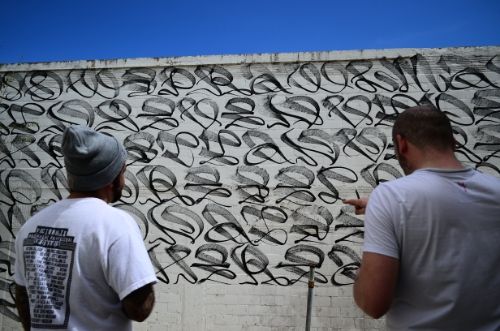 Of course once festival organizer Anthony Pedone saw Jake's work with Stohead, he was offered a slot to exhibit, perhaps giving Jake the biggest local boost anyone ever could, last night we were lucky enough to attend the pre art exhibit and see Don Avlo, Stohead and Jake showcase their stuff and talk about their work.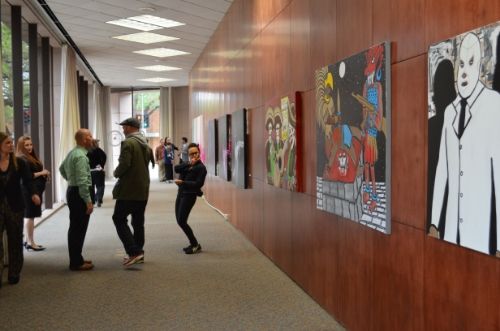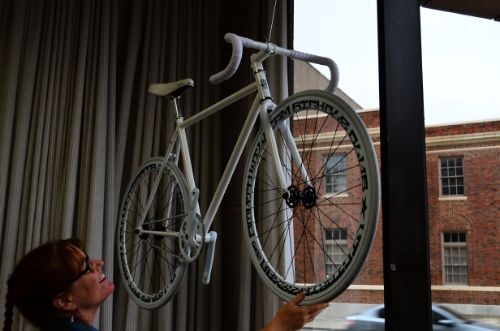 When the fest is over, and everyone goes home, people like ourselves and artists like Jake will stay behind. We will continue to push our projects and do our thing, but right now, the next 4 days will prove to be the most inspirational and empowering thing for artists of all mediums.
The second issue of the Indie Art Zine 'Come and Take It — Fighting to Stay Independent' put out by the OMBG Podcast and VTXIFF is now available!
You can read and download it on online [here]!
Making their way to the Victoria TX Independent Film Fest is Les Sales Cons, a French based comedic hip hop group invited to Texas to perform at the Roundball afterparty on Friday April 5th at the Golden Gecko. Les Sales Cons is a featured artist on the Roundball soundtrack and their performance is being recorded live as part of the festival's many unique activities that incorpate festival goers with not just film, but music and art to engage participants.
Les Sales Cons took time out to talk with Timothy Danger of OMBG about the group and coming to the film fest.
TD: Let's talk band history. How did you guys form?
LS: It's a very old story…
The band formed because we don't have anything else to do… (laugh)
It was the time when everybody in the world did rap, and also in a very easy way especially in France.
So we decide to create a rap band against rap and to do it in a easier way by bringing the old manner of rapping (I mean with real topics of society and a different flow) but in a real sarcastic and a critical way.
So the band born more or less like a joke.
All members of the band are musicians, Mac Traitre is guitarist and La Note is Bassist and percussionist, so we want to have a first concert to know what the impact could be on our city.
And surprisingly, it worked… People started to talk about us and to spread the word that a new white trash rap band was born. So we kept on until now and also we succeed in bringing our instruments we play live on stage and to give a real comical way (stand up way) to our show (in French).
TD: Tell us about your songwriting process. Humor seems to play a big part in your video, is that something you do to stay different from others?
LS: Absolutely YES, we wanted to be serious on such subjects and to say the reality in a such manner but always by trying to be funny and extravagant…
In fact as you know when you're talking a joke you have to be serious instead of laughing, if not the joke doesn't work.
So we play between the 1st and the second degree and sometimes people wonder if we are serious or not when they listen our songs…
TD: The motto "We rap out loud what nobody is thinking" is an interesting one, what are some of the themes or topics you tackle with your songs?
LS: The topics are based on true events, or they born from a frustration that could be sexual or financial or political. Basically the very first topics were about sex (like "Nichons" or "Par le cul y a moyen?"), and other texts were made by automatic writing (Rien d'Utile), but now we also tackle with other subjects like cannibalism, suicide, politics, consumption, discrimination, society…
TD: Do you think your music is a good way to get your point across and maybe get others to agree, or do you think you just do it for personal satisfaction?
LS: We don't care if people are agree or not on what we say, we just do it for fun and we want that our audience has fun too.
It's like to say "Stop thinking for a moment, stop being serious for a while, and have some fun with us and people around you".
Our point is maybe to say to people, think what you want and say what you want, don't be afraid of what you are.
TD: Will this be your first time in the United States or Texas? What are you most looking forward to?
LS: Yes, first time ever, so we're very exited to be in the USA and especially in Texas.
The most we're looking forward is fun, guns, food and bitcheeeeeees (laughs)
Seriously we're happy to do that concert in Victoria, and to see what could be our impact on an American audience, but all our songs are in French, so we will see.
TD:How is the music scene where you are at? What's the most memorable thing that has happened to you there?
LS: Well, we live in Strasbourg (the European capital because of its European institutions) in France, it's a very little town with about 200 000 people in the downtown and 500 000 with the surroundings.
But even if it's not too big, the music scene is very eclectic. You can find 3 main places for doing shows and also we have the biggest Zenith (it's like the biggest place to do shows) in France.
But the city is a very cultural one with a lot of young people, because of the universities, and you can do show also in bars.
The most memorable things that happened to us, we thought about 3 things.
The first was in Strasbourg when we're playing a song (Nichons or Tous des cons, we don't remember), there was a girl in the public who started to cry and to throw a plastic glass full of beer to us on stage and she was screaming "why do you say that? Why do you say that?" It was very funny, but we never understood her reaction, because we don't want to hurt anybody in our songs…
The second one was always in Strasbourg when for the first time we bring on stage 2 girls for dancing with us and get undressed, but also our instruments (guitar, bass and percussions played by the two Mcs) and we also buy some confetti tubes for the show. It was few days before Christmas and all the people were costumed and at the end of our show a good part of the people get on stage and ended the show with us. It was a really good mess. We enjoy a lot that show.
The third one happened in a little village called Landsberg always in France, when the band was very young and not so known. We play in a little bar with no stage and with about 30-50 peoples in front of us. And the amazing part was that all the peoples knew almost all of our songs and they song with us all along. It was very surprising.
TD: What are the best ways for people here in the US to find your music?
LS: You can use Deezer to find out our music or also reverbnation.com/lessalescons or myspace.com/lessalescons.
We've done 3 video clips that are on youtube: Rien d'Utile, Dans nos filets, and La Grande Bouffe. And also a promotional one for our album "Mettez-vous des claques!" (Slap yourselves in the face!)
But the best is on facebook "Sales Cons".
Our label based on Toulouse failed, so we have a lot of CDs to sell, and facebook it's the best way for us to do that. So if you're interested send a PM to us
TD: What are your future plans for after the film festival?
LS: Nowadays we're all juggling with jobs and side projects, and also because the label failed, we're asking to ourselves if we have to keep on or not.
We have also ideas for a new album, lyrics are made and also some of the music, so we are open to all propositions…
Interview with Boris Castro and Karla Lemus by Timothy Danger.
Listen Now :: Breakin' LA Interview
Boris and Karla are German filmmakers who are in Victoria TX this month to showcase their latest film "Breakin' LA" which is a documentary on a group of German riders who decided to experience LA on their bicycles.
They are also advocates and art supporters in their native country, with Boris publishing READ magazine and organizing the Radar Film Fest in Hamburg.
Boris and Karla took some time out to talk to us about, bikes, art, and doing something in your local city to get an art movement to happen.
For more information about the Film and it's creators go to :: www.breakin-la.com
Interview with Stohead by Timothy Danger.
Listen Now :: Interview with Stohead
Stohead is a German artist who uses a style heavily borrowed from old school hip hop, punk, urban street and graffiti art. Using the age old technique of graffiti tags, updating them in different media, and using text to repeat patterns over, he has been able to share his work in Germany, France and Brazil.
He is in the United States for the first time, and the Victoria TX Independent Film Fest is proud to showcase his first American Art Exhibition.
For more information on Stohead, visit his website :: www.stohead.com
Les Sales Cons are slated to be musical guests during the after party for the film "Roundball" during the Victoria TX Independent Film Festival…
Formed around two Mcs and Beat makers Mac Traître and La Note, they will arrive with Dj Cut Edge on turntables.

By cultivating a pronounced disgust towards the rest of the world, Les Sales Cons
evoke songs about the manners of young human beings, sex, hypocrisy, stupidity, frustration and disasters, on a cynical, impertinent and sarcastic tone, but always with a critical content.

Les Sales Cons appreciate and don't forget that "the stupidity is the relaxation of the
mind"
Keep an eye out for our interview with Les Sales Cons soon.

One movie we are especially excited to see at the Victoria TX Independent Film Festival is Ghost Team One.

A hilarious look at the found footage genre and recent stampede of "Paranormal Activity" type movies, this film centers around a pair of not so smart roomates as they find themselves competing over a girl by making a documentary about the hauntings in their house.

Naturally, things get out of hand.


One film that we are really excited to see make it's way into the VTXIFF is xxx All Ages xxx, this is a documentary film that explores the early Boston Hardcore music scene from the years 1981 thru 1984. Unlike earlier films that were centered on the members of the bands, this film delves into the social and communal aspects of that particular era. The community, culture, straight edge and DIY (Do it yourself) ethic of the time are all explored in the film. Never before seen archival footage, photographs, interviews and dramatizations make up the body of the film.
The origins of the "xxx All Ages xxx" film project go as far back as September 1981. At the time Duane Lucia (Executive Producer) was the owner and operator of the Gallery East performance / art space located in Boston. The Gallery East provided an early "All Ages" venue making it instrumental in giving birth to the upcoming local "Hardcore" scene. Katie "The Kleening Lady" Goldman (Producer) was a communication major and radio personality at Emerson College as well as a driving force in the burgeoning local hardcore scene. She was involved with the promotion of all ages hardcore shows at the gallery including The Mighty CO's which was fronted by fellow Emerson student Drew Stone (Director). In 2009 the three formed an alliance with the intention of making a documentary film focusing on the early Boston Hardcore scene. It was agreed upon that under the Gallery East name Duane Lucia would finance the project and assume the role of Executive Producer, Katie Goldman would be the film's Producer and Drew Stone the Director / Editor along with Alan Dubin.
Even cooler? Legendary band DYS is coming to the film festival to play the afterparty with a few other bands on the bill. This will be your chance to watch a great documentary on bands that helped define their genre of music, and watch on of the bands that did it live and in person.