When I heard Shane Black was taking over the third Iron Man movie. I had mixed feelings. The dude did a winner (Lethal Weapon) and a stinker (Last Action Hero) close to twenty years ago and I just for the life of me couldn't figure out why they were giving this to him when he had John Favreau's shoes to fill from the last two movies not to mention a little flick called "The Avengers" which was going to be the movie it would have to follow.
********** WARNING… I'm a spoiler fiend and don't care **********
So before I get into the bitter old man comic book fan rant that is Cinema Beer-Te "Iron Man 3″ Edition… Let me just say that as a whole, Iron Man 3 is fun. As a redblooded American Male, it's got the big three action movie staples:
1. Lots of Explosions
2.Good guys kicking bad guy ass in a big finale
3. A hot chick in undergarments
Bam… you win Shane Black, there you go. That formula has been around since the 80′s and thank you for not straying. This formula mixed with the hype, is going to ensure that Joe America sees and loves the movie.
Now here's what I have issues with:
It's not The Avengers:
That's cool man, it doesn't try to be. But the sad thing is, I wanted it to be. In my heart, as the Marvel issued movies got better and better leading up to The Avengers (with the exception of the snoozefest that was Thor) I was hoping to see the bar get raised. It's not Iron Man 3′s fault, this was the act that had to follow probably the best superhero movie to date. The issue I have, is that this movie (as far as I see) did nothing to further the big Avengers storyline for phase 2 Avengers stuff (the phase 1 movies all had an easter egg or plot that would  give us a hint of what to expect with the Avengers… and while we are on the subject of plot…
The Plot had more holes than a Goth kid in a piercing studio:
Why oh why is Tony messing with one suit of armor throughout the whole movie? Why is he trying to repair it so bad when Jarvis already reminded him that it is not battle ready? Why is there a 12 year old kid in the movie acting as a sidekick (didn't they see Phantom Menace? That never works)
When it comes crunch time… BAM! Tony's underground garage opens up and 41 other Iron Man suits fly out controlled by Jarvis. Yes… all 42 suits survived. So why is Tony stuck in Tennessee trying to repair one crappy untested suit with no weapons?
One more thing on the suits… In the other movies, Tony has fought villains, big robots, alien invaders and giant space worms using the Mark 2 or 3 only… can someone explain why his other 40 suits seem so fragile while fighting henchmen? It was like the slaughter of the Iron Men as they just seem to fall apart. The old armor stood up to blows from Thor for Pete's sake, why are these so fragile?
Speaking of fragile…
Dude when did they make James Rhodes such a wimp? So as a comic fan who keeps up to date (and loved the siege and thunderbolts storylines with him) I was happy to see Iron Patriot's armor on the big screen (even if it wasn't really Iron Patriot) what I'm bummed about is that War Machine is so much more cooler already, but I totally get the fact that kids now have two James Rhodes toys to buy instead of one, (plus 42 Iron Man suits, a Pepper, a few Extremis henchmen, and we can get an even 50 toys out of this)
My big dissapointment in this is that we don't actually get to see Iron Patriot fight at all, he flies around, and basically gets captured, then in the finale, he is denied a suit to fight in, making him the bumbling sidekick. Hell Gwyneth Paltrow sees more action than him.
In The End:
It was different. It felt different. It moved like a reboot, except with the same cast. Don't get me wrong, it was worth the price of a ticket, but I came home feeling a little bummed. If any Marvel franchise (besides Avengers) let me leave feeling happy, it was the first two Iron Man films.
Still, Pepper looks hot, The Mandiran character was a suprise (but they shouldn't have made Iron Man's best villain a joke) and the movie is paced decently with good special effects. But there is a certain tone and feeling that is lacking from this movie versus the first two.
Don't get me started on the book.
Interview with Ashly Burch and Kenny Riches from Must Come Down at VTXIFF 2013 with Timothy Danger.
Listen Now :: Must Come Down from VTXIFF

We met up with Ted from Never Records and Jason who directed the film NEVER RECORDS YOU ARE NOT LISTENING, to talk a little about the movie which made it's first ever debut last night.
In true NEVER RECORDS fashion, he recorded it using his equipment and cut it to vinyl.
Interview by Tim Danger.
Listen Now :: Interview with Never Records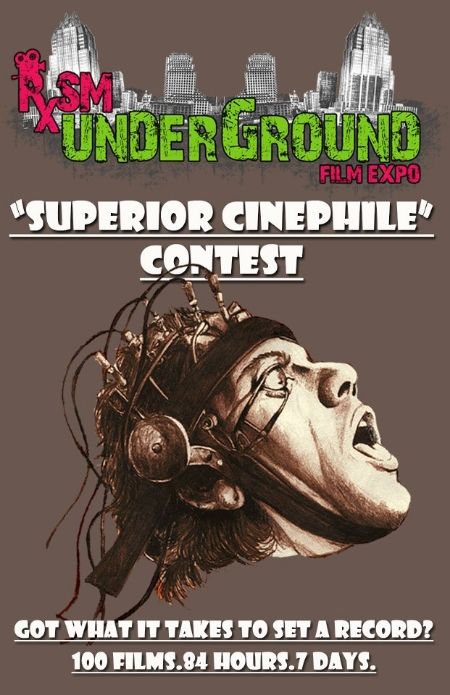 So you like movies huh?
This year RxSM has announced the Superior Cinephile Contest where 5 film addicts will be selected to view 100 films, in 84 hours, over 7 days

Only one will be crowned as the "Superior Cinephile"! Prizes include VIP passes to upcoming film festivals, cash money prize of $100, a sweet customized trophy, and an assortment of goodies provided by their sponsors.
If you are psycho about cinema, think you have what it takes and want to enter the contest please send an email about why you can win the contest (info@rxsm.com) and the good folks at RXSM will select 5 film addicts to compete for the title.
RXSM is March 8th through March 14th from 4pm to 4am. Austin TX.
www.rxsm.org
Les Sales Cons are slated to be musical guests during the after party for the film "Roundball" during the Victoria TX Independent Film Festival…
Formed around two Mcs and Beat makers Mac Traître and La Note, they will arrive with Dj Cut Edge on turntables.

By cultivating a pronounced disgust towards the rest of the world, Les Sales Cons
evoke songs about the manners of young human beings, sex, hypocrisy, stupidity, frustration and disasters, on a cynical, impertinent and sarcastic tone, but always with a critical content.

Les Sales Cons appreciate and don't forget that "the stupidity is the relaxation of the
mind"
Keep an eye out for our interview with Les Sales Cons soon.

One movie we are especially excited to see at the Victoria TX Independent Film Festival is Ghost Team One.

A hilarious look at the found footage genre and recent stampede of "Paranormal Activity" type movies, this film centers around a pair of not so smart roomates as they find themselves competing over a girl by making a documentary about the hauntings in their house.

Naturally, things get out of hand.


One film that we are really excited to see make it's way into the VTXIFF is xxx All Ages xxx, this is a documentary film that explores the early Boston Hardcore music scene from the years 1981 thru 1984. Unlike earlier films that were centered on the members of the bands, this film delves into the social and communal aspects of that particular era. The community, culture, straight edge and DIY (Do it yourself) ethic of the time are all explored in the film. Never before seen archival footage, photographs, interviews and dramatizations make up the body of the film.
The origins of the "xxx All Ages xxx" film project go as far back as September 1981. At the time Duane Lucia (Executive Producer) was the owner and operator of the Gallery East performance / art space located in Boston. The Gallery East provided an early "All Ages" venue making it instrumental in giving birth to the upcoming local "Hardcore" scene. Katie "The Kleening Lady" Goldman (Producer) was a communication major and radio personality at Emerson College as well as a driving force in the burgeoning local hardcore scene. She was involved with the promotion of all ages hardcore shows at the gallery including The Mighty CO's which was fronted by fellow Emerson student Drew Stone (Director). In 2009 the three formed an alliance with the intention of making a documentary film focusing on the early Boston Hardcore scene. It was agreed upon that under the Gallery East name Duane Lucia would finance the project and assume the role of Executive Producer, Katie Goldman would be the film's Producer and Drew Stone the Director / Editor along with Alan Dubin.
Even cooler? Legendary band DYS is coming to the film festival to play the afterparty with a few other bands on the bill. This will be your chance to watch a great documentary on bands that helped define their genre of music, and watch on of the bands that did it live and in person.
One documentary we really want to catch is Stick 'Em Up! a movie about the illegal art street movement in Houston Texas. Watch the trailer it looks fascinating.
The film will be part of the after hours block on March 9th.
To find out about the programming for the expo (the schedule is now up!) go to
www.rxsm.org
Hey Austin, in case you didn't know, you tried so hard to be cool, you became a cliche. Just thought you'd like to know, and you're welcome.  South by so what.
But… if you wanna be so cool the hipsters don't even know about it yet, you can always go to the RxSM underground film expo.
The film fest exists as an alternative for movie fans to get a cinematic experience during the month of March when a certain "other" festival runs. RxSM pushes itself to be even more cutting edge, as it includes films in it's programming that the "other" festival may not include or just have room for in it's program.
The best part is that the fest is created and run by independent filmakers who fight to maintain a voice among the piles and piles of mediocre stuff you will be subjected to in the city of Austin that month.
The showcase will run March 8-14 from 4pm to 4am.
RSVP's are now open for RxSM Film Expo 2013 at Emo's East Plaza.
RSVP at: ( http://www.facebook.com/rxsm.filmxchange )by becoming their friend. Your name will be exported to a private guest list where you can enjoy film screenings, intimate celebrity interaction, and of course unlimited complimentary spirits thanks to their sponsors. This is a private event and you must RSVP to attend.
Programming:
The screening schedule will be announced mid February. All details will be released exclusively via Facebook. So friends this means you can receive up to the minute live feeds of 'whowhatwhenwherehow' at RxSM 2013.
You're welcome. See you there.
website: http://www.rxsm.org
Last year, we had the unique pleasure to cover an event that happened in our own backyard that brought music, art and film to a sleepy little city we call home. From a local's perspective, it was a much welcomed display of diverse culture that had our town talking. It was refreshing to see a legit film festival programmed and brought to Victoria Texas, and it taught the community that there is more to local life than the typical blockbuster. Of course, I am talking about The Victoria TX Independent Film Festival.
The event itself is a four day festival that is designed to inspire and champion independent artists while introducing the local community to the drive, passion, and work done by independent film makers. Since it's inception, the concept has grown to include music and visual art as well.
The festival will show over 50 films, include art shows (with live demonstrations planned) musical performances of bands featured in documentaries, live music recordings, as well as free events, children events, interactive Q&A's with the film makers and so much more… and yes… it's happening here
The thing we love about this festival, is that there is always someone out there, who says this cannot be done. There is always a naysayer who would say "That will never happen here" or automatically dismisses an event because if it is in a 100 mile radius of our town, it must not be "cool". There are many reasons for this I suppose. Maybe they wish they could do something meaningful, but since something is hard or difficult, they just give up, and bash others that dare to support and work for something they believe in. Maybe something different that they do not understand frightens them, and they would rather not support it than expand their horizons. I am not sure why. But despite all the red tape, town politics, the boring status-quo ("But this is the way we've always done it"), we were lucky to see it last year, and watch ringleader Anthony Pedone and crew pull off an amazing feat last year.
I guess the feeling was mutual, because this year, instead of just covering the event, the crew here at the OMBG podcast was invited to join the staff of the festival. Yup… we are going to be chronicling the road to the film fest with news on events, interviews and films to look out for, hosting music performances, spreading the word through new media channels, and even… helping out with a zine for those who love independent press. It's a big task, but when it comes to supporting what we believe in, we are going all in.
So keep an eye out for news and events here and on the film fest's webpage.
Victoria TX Independent Film Festival Website
You don't have to wait for months to get excited, we are going to be steady releasing information about VTXIFF starting with this post and carrying through the event. As indie art advocates we are ready to walk our walk. I hope you are too.