A few weeks ago, local artist and Poor Favor/ Folly Collage frontman Danny mentioned that Ethel Lee Tracey Park has an amphitheater, that it is for rent, and that someone should throw a show there.
We had no idea a few days later he came up with RADFEST and began promoting it through social media.
The idea was simple enough… invite whoever he could to come play it, but that notion quickly grew into the biggest, most eclectic gathering of music assembled this summer, rivaling even bigger "sponsored" events in the city in terms of bands, solo artists, spoken word performers and now opening up to visual artists.
The best part of all this? It's free.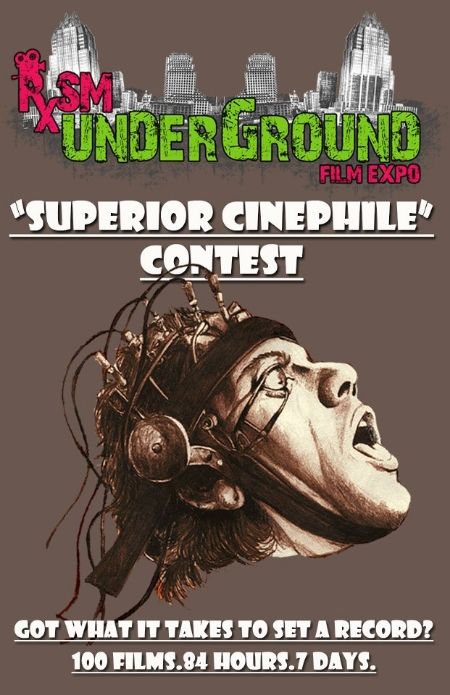 So you like movies huh?
This year RxSM has announced the Superior Cinephile Contest where 5 film addicts will be selected to view 100 films, in 84 hours, over 7 days

Only one will be crowned as the "Superior Cinephile"! Prizes include VIP passes to upcoming film festivals, cash money prize of $100, a sweet customized trophy, and an assortment of goodies provided by their sponsors.
If you are psycho about cinema, think you have what it takes and want to enter the contest please send an email about why you can win the contest (info@rxsm.com) and the good folks at RXSM will select 5 film addicts to compete for the title.
RXSM is March 8th through March 14th from 4pm to 4am. Austin TX.
www.rxsm.org
Les Sales Cons are slated to be musical guests during the after party for the film "Roundball" during the Victoria TX Independent Film Festival…
Formed around two Mcs and Beat makers Mac Traître and La Note, they will arrive with Dj Cut Edge on turntables.

By cultivating a pronounced disgust towards the rest of the world, Les Sales Cons
evoke songs about the manners of young human beings, sex, hypocrisy, stupidity, frustration and disasters, on a cynical, impertinent and sarcastic tone, but always with a critical content.

Les Sales Cons appreciate and don't forget that "the stupidity is the relaxation of the
mind"
Keep an eye out for our interview with Les Sales Cons soon.

One movie we are especially excited to see at the Victoria TX Independent Film Festival is Ghost Team One.

A hilarious look at the found footage genre and recent stampede of "Paranormal Activity" type movies, this film centers around a pair of not so smart roomates as they find themselves competing over a girl by making a documentary about the hauntings in their house.

Naturally, things get out of hand.


One film that we are really excited to see make it's way into the VTXIFF is xxx All Ages xxx, this is a documentary film that explores the early Boston Hardcore music scene from the years 1981 thru 1984. Unlike earlier films that were centered on the members of the bands, this film delves into the social and communal aspects of that particular era. The community, culture, straight edge and DIY (Do it yourself) ethic of the time are all explored in the film. Never before seen archival footage, photographs, interviews and dramatizations make up the body of the film.
The origins of the "xxx All Ages xxx" film project go as far back as September 1981. At the time Duane Lucia (Executive Producer) was the owner and operator of the Gallery East performance / art space located in Boston. The Gallery East provided an early "All Ages" venue making it instrumental in giving birth to the upcoming local "Hardcore" scene. Katie "The Kleening Lady" Goldman (Producer) was a communication major and radio personality at Emerson College as well as a driving force in the burgeoning local hardcore scene. She was involved with the promotion of all ages hardcore shows at the gallery including The Mighty CO's which was fronted by fellow Emerson student Drew Stone (Director). In 2009 the three formed an alliance with the intention of making a documentary film focusing on the early Boston Hardcore scene. It was agreed upon that under the Gallery East name Duane Lucia would finance the project and assume the role of Executive Producer, Katie Goldman would be the film's Producer and Drew Stone the Director / Editor along with Alan Dubin.
Even cooler? Legendary band DYS is coming to the film festival to play the afterparty with a few other bands on the bill. This will be your chance to watch a great documentary on bands that helped define their genre of music, and watch on of the bands that did it live and in person.
One documentary we really want to catch is Stick 'Em Up! a movie about the illegal art street movement in Houston Texas. Watch the trailer it looks fascinating.
The film will be part of the after hours block on March 9th.
To find out about the programming for the expo (the schedule is now up!) go to
www.rxsm.org
Hey Austin, in case you didn't know, you tried so hard to be cool, you became a cliche. Just thought you'd like to know, and you're welcome.  South by so what.
But… if you wanna be so cool the hipsters don't even know about it yet, you can always go to the RxSM underground film expo.
The film fest exists as an alternative for movie fans to get a cinematic experience during the month of March when a certain "other" festival runs. RxSM pushes itself to be even more cutting edge, as it includes films in it's programming that the "other" festival may not include or just have room for in it's program.
The best part is that the fest is created and run by independent filmakers who fight to maintain a voice among the piles and piles of mediocre stuff you will be subjected to in the city of Austin that month.
The showcase will run March 8-14 from 4pm to 4am.
RSVP's are now open for RxSM Film Expo 2013 at Emo's East Plaza.
RSVP at: ( http://www.facebook.com/rxsm.filmxchange )by becoming their friend. Your name will be exported to a private guest list where you can enjoy film screenings, intimate celebrity interaction, and of course unlimited complimentary spirits thanks to their sponsors. This is a private event and you must RSVP to attend.
Programming:
The screening schedule will be announced mid February. All details will be released exclusively via Facebook. So friends this means you can receive up to the minute live feeds of 'whowhatwhenwherehow' at RxSM 2013.
You're welcome. See you there.
website: http://www.rxsm.org
Last year, we had the unique pleasure to cover an event that happened in our own backyard that brought music, art and film to a sleepy little city we call home. From a local's perspective, it was a much welcomed display of diverse culture that had our town talking. It was refreshing to see a legit film festival programmed and brought to Victoria Texas, and it taught the community that there is more to local life than the typical blockbuster. Of course, I am talking about The Victoria TX Independent Film Festival.
The event itself is a four day festival that is designed to inspire and champion independent artists while introducing the local community to the drive, passion, and work done by independent film makers. Since it's inception, the concept has grown to include music and visual art as well.
The festival will show over 50 films, include art shows (with live demonstrations planned) musical performances of bands featured in documentaries, live music recordings, as well as free events, children events, interactive Q&A's with the film makers and so much more… and yes… it's happening here
The thing we love about this festival, is that there is always someone out there, who says this cannot be done. There is always a naysayer who would say "That will never happen here" or automatically dismisses an event because if it is in a 100 mile radius of our town, it must not be "cool". There are many reasons for this I suppose. Maybe they wish they could do something meaningful, but since something is hard or difficult, they just give up, and bash others that dare to support and work for something they believe in. Maybe something different that they do not understand frightens them, and they would rather not support it than expand their horizons. I am not sure why. But despite all the red tape, town politics, the boring status-quo ("But this is the way we've always done it"), we were lucky to see it last year, and watch ringleader Anthony Pedone and crew pull off an amazing feat last year.
I guess the feeling was mutual, because this year, instead of just covering the event, the crew here at the OMBG podcast was invited to join the staff of the festival. Yup… we are going to be chronicling the road to the film fest with news on events, interviews and films to look out for, hosting music performances, spreading the word through new media channels, and even… helping out with a zine for those who love independent press. It's a big task, but when it comes to supporting what we believe in, we are going all in.
So keep an eye out for news and events here and on the film fest's webpage.
Victoria TX Independent Film Festival Website
You don't have to wait for months to get excited, we are going to be steady releasing information about VTXIFF starting with this post and carrying through the event. As indie art advocates we are ready to walk our walk. I hope you are too.
I remember seeing the poster for the first Warped Tour in 95. I remember seeing all the bands on the poster, and thinking "There is no way this is a real thing" it was the first time I had ever seen a huge lineup of punk bands in one place. So… we went. I went a few times over the years, and the last time I went to Warped Tour was ten years ago in 2002. To tell the truth I was pretty much done with Warped Tour in 2002. I had enough of it by then, the long lines, the heat, the short sets, it was enough to make the young punk rocker finally concede to the old man inside. That part of my twenties was forgotten until recently, when OMBG decided to try to get press credentials to go to Warped Tour this year. I'm not sure really why we pushed so hard to go. We've been around for going on two years now, and we have been covering more and more events, I think we just really wanted to prove to ourselves that we were legit enough to get into something that mainstream music magazines and publications go to. It wasn't until we got our credentials and looked at the lineup that we realized how much had changed in 10 years… 1) There used to be a ton of punk bands and a couple of others…. Now, there's a lot of "alternative music" and (literally) a couple of punk bands. I saw this turn on my last Warped in 2002. I begin to see the turn of music even back then, as pop punk gave way to emo and screamo, which in turn ten years later turned into "metal" (I use that in loose terms) "hardcore" (this one too) and bad rap groups. I am not sure how this happened. I mean I know that times change. I guess at some point, the tour has to decide if it wants to stay punk or change with the trends. If it didn't change with the trends, it would bankrupt.  The only people that looked kind of like my old friends were some people in the bands and a few of the workers. Which leads me to my next point… 2) I have nothing in common with typical kids… That's not a bad thing. At the old punk rock age of 36, I am happy to not be in the same category as a lot of kids. I always liked going to shows as a youth and doing my own thing, but one thing I noticed in this concert was that I never saw so many kids try so hard to look different, they all looked the same. As I stood around tired of crowds and heat, these kids seemed to revel in being put from one crowd to another. It didn't take long for Brea and I to see in line… Warped tour is a youngin's game.
3. DIY vendors have given way to activists and social causes… When I first went to Warped over a decade ago, there was always really cool booths that had DIY clothes or free mohawks to give, or zines to give out. I mean there was always something there like PETA or Truth.com, but for the most part, there was usually something cool to find… This year, I found pretty much no DIY stuff. But I did find… a heap of activists in it's place. I guess I shouldn't be surprised. Over the years punk rock has gone from having fun and doing your own thing, to being politically correct and not offending anyone. It just seems that all the fun has been taken out of rock and roll. 3. Vegans have taken a whole new low… So… at Warped Tour, one thing I did notice were at least 4 different vegan organizations. Each with varying degrees of passive aggressiveness. One thing that really stood out, was that one group was actually paying concert goers money to watch a 4 minute video on animal torture. I've heard of desperate measures, but this one took the cake. See pic below. The level of rudeness from their workers, was not surprising. The scoffs of the volunteers that I actually declined their offer of one American dollar to watch a video meant to shame me. Now, look, don't get me wrong, I believe people have the right to live their lives. If you want soy and leafy greens, more power to you, and more steak for me. But like I said, I believe in the right to live your own life, that means not spreading your agenda on other people. I really miss those old DIY booths. 4. In the midst of this, there is still hope… Now I had just about given up hope that day. Until I met the Jukebox Romantics. I had an interview with them that afternoon. They were cool guys, played in an actual punk band, and put on the best set I saw that day. I was introduced to the fine people on their label, and all in all, they made a possible shitty day pretty damn good. So to recap, I don't know what I was expecting. I knew that a lot of things had changed in 10 years, and even being a "music journalist" who helps put out a podcast. I knew that musically, I was going to be at odds with it. I will always have a feeling of discontent with it I guess. Everyone else seemed to have a blast, and our photographer (these pics are mine but Jake's will be up later) seemed to love it. But thanks to bands like The Jukebox Romantics, I guess it is possible to go home again, even if the family is a little smaller than what you're used to.