Hey guys, so we have ourselves a new trailer for next installment of Ubisofts cash cow franchise, Assassn's Creed, Assassin's Creed 4: Black Flag. Take a look.
Now, an Assassin's Creed game wouldn't be what it is without it giving it's fans a little bit of a history lesson, and Black Flag seems to be no different.
I really like what they did with this trailer by giving the history of piracy, and what had happened to these British privateers that made them revert to becoming ruthless pirates and playing by their own rules.
Since the announcement trailer we knew that Blackbeard would be a major character in the game, but now we know that other notable pirates like Calico Jack and Charles Vane will play a part as well, which is pretty cool. Everybody knows who Blackbeard is, some may not know about any others like that, but that's what the AC franchise does well with basing their games during real historical events.
What do you guys think about the AC history lesson? Cool? Not Cool?
Well, this past Sunday during the season finale of ABC's "Once Upon A Time," we finally got a sneak peek at the upcoming Joss Whedon created series, "Marvel's Agents of S.H.I.E.L.D." The big buzz about this show is the fact that it takes place after the events of The Avengers, but Agent Coulson is alive, and how they were going to explain him still being alive. Well, the sneak peek didn't explain anything. Then today, we got a full three minute trailer for the series. It still didn't explain Coulson being alive, but we DID get an idea as to what the series will be about. Take a look for yourself.
On Monday's episode, Tim said that he wished that they don't turn it into a Fringe type show. According to this trailer, it seems that might be the way they are going, but I'm going to be optimistic. I think it'll be good, it's Joss Whedon, it's his usual team, so I'm gonna wait until the first episode to judge.
What do you guys think about the Agents of S.H.I.E.L.D. trailer? Let us know!
I met Ethan Minsker a few weeks ago at the Victoria TX Independent Film Fest. He was in town to promote his film "The Dolls Of Lisbon" and I was scheduled to interview him, so while doing research prepping for the interview, I discovered that besides being a film maker, Ethan was also an artist, curator, amd writer. While talking with other members of the Antagonist Art Movement a few days before Ethan arrived into town, the discussion of being driven, punk rock, and scenes developed and melded into one topic, to which they said, "You'll love Ethan." So when I met Ethan, we sat across from each other in a restaraunt that was way too fancy for me, and we both kind of sat quietly weighing the situation and listening to everyone fill him in on the last few days activities before we actually begin a conversation. It's a life skill I learned from years of being in a scene filled with volatile and chaotic people. I could tell immediately that Ethan was a lot like me and had learned the same skills by habit. I knew I wanted to read his book.
So I picked up "Rich Boy Cries For Mama" and read it in two days.
RBCFM is a memoir based in Washington D.C. during the 70′s and 80′s punk and hardcore scene. The book follows the main character as he is diagnosed with a learning disablility, finds friends and belonging in a music lifestyle that celebrates the misfits of society, and all the mayhem that goes along with it.
Most people reading this get it. They have been there. Drugs, romance, fights, rivalries, loss, and of course music. It is the stuff that makes or breaks a person involved in any type of subculture. You either let it consume and change you, or it becomes a "fad" and you trade that leather jacket in for a blazer and get on with the rest of them.
That's what makes this so special. Ethan is not a coke addled rock star with a ghost writer, he is not sharing stories of partying with members of the Go-Gos in a limo or giving pretentious stories of things that we can't relate to. This is a believable, flawed, sometimes scared, sometimes cocky kid, finding his way in the world.
Punk rock is his mistress even if he doesn't know it. Like a bad girlfriend, he is seduced, sometimes misled, and often getting into fights with his friends because of her. The book follows the intial high of the discovery of music. It's something that I remember vividly, as we old school fans (pre-internet) would pour over record stores, go to shows, and read zines or liner notes to try and find our next favorite bands. It talks about meeting new people and finally feeling happy for belonging to something. It is a feeling that creeped back up to me reading this book. I miss it, it comes back now and again, but not nearly enough.
Then comes the disenchantment and the violence… First it is a means to stand up for yourself, to not be bullied or weak, then it slowly becomes mixed with the pack mentality and directed at people who are different, slowly becoming the things we hate. It is a slippery slope, in a subculture bathed in machismo and testosterone. It is hard to be the calm one, who only raises his fists to protect what is theirs while staying true to your friends who will kick in heads at the drop of a pin.
But even through the flaws, the subculture and the music do more good than bad. We come to terms with it. It is flawed like us. But it has made us better. Bigger than what we were. It opens the doors to art, to bands, to music. Years later, someone tells you that you changed someones life just by being who you were. That makes all the difference in the world.
If it seems like this review took a turn for the personal side. It did. That's what this book does. It's Ethan's story. But it could be the story of any kid who doesn't belong searching for something. When you get close to finding it, you look back and realize that the journey is the best part. This isn't just Ethan's story, it's the inspiration to tell your own, it is the reminder to look through your old records and photo albums and call an old friend before it's too late.
The book is "Rich Boy Cries For Mama" and it's a good one.
Sup guys? Got a few things to talk about today.
First of all. Last week, WB Games and Game Informer Magazine announced the next installment into the Batman: Arkham series: Batman: Arkham Origins. There are a few different things coming with the new title.
First: Rocksteady will not be developing the game. Instead, WB Games' Montreal studio will be taking the helm on Batman's next adventure, but they have stated that they will be building the game using the latest version of the Unreal Engine so that the feel of the game will remain the same.
Second: Although the game will take place before the events of Arkham Asylum, and the name, "Origins" would suggest some sort of an origin story for either Batman or Arkham Asylum, it has been stated that the story will involve neither, but I have a couple of theories on this.
So the story of Arkham Origins is that a group of assassin's have come to Gotham City to take down Batman. As of right now, there are at least three classic Batman villains that will be making appearances in Arkham Origins: Penguin, Black Mask, and Deathstroke.
Ok, here are a couple of theories I have about Arkham Origins.
1. Although they are saying that the title has nothing to do with any type of origin, I think that once Batman defeats all of these assassins, he will need a place to have them incarcerated. Which will call the need for an Asylum of some sorts.
2. After Arkham City, it was said that Mark Hamill is not done playing The Joker. Although there has been nothing said of The Joker making an appearance in Arkham Origins, my theory is that he may have hired these assassins to come to Gotham.
Just my thoughts on it. Anyway, here is the announcement trailer for Batman: Arkham Origins if you haven't seen it yet.
Next, Nintendo has announced a sequel to the SNES game, The Legend of Zelda: A Link to the Past, for the 3DS, set to come out this holiday season. This game will take place in the same game world as A Link to the Past, which is the first Zelda Game to do this. The gameplay will be top down view like the SNES game but will also feature some 3D aspects as well. Check out the announcement trailer.
Finally, as a part of Rooster Teeth's 10 year anniversary, they have announced that they have gone out on their own with their YouTube channels. During the early days of Red vs Blue and Rooster Teeth, they signed on with Machinima.com to distribute their videos on YouTube. Now, the RT crew has cut those ties and are now running their own YouTube channels. As a part of that announcement, Rooster Teeth's sister site, Achievement Hunter, has started their own channel for their Lets Play videos, and here's that.
Alright, I know it's been a while since I last posted, but I hope I made up for it with all of this news! Laters!
Bullet Treatment will be releasing a new e.p. via Basement Records on April 30, 2013. The new e.p. titled "Ex-Breathers" will be available in two formats, Digital Download and CD w/ 2 Bonus Tracks.
Their first ever music video will be released soon as well.
On the podcast this week, I had the pleasure of playing the first track from Sleezeland, the new recording project from former Worm Suicide frontman, Pablo Sleeze.
In a few days, I get to share a booth at Staple! Independent Media Expo with Scott Free, former Worm Suicide guitar player in support of his new project Apples For Eyes.
It got me thinking about the band Worm Suicide and what they meant to Victoria's music when they were around…
Love them or hate them, it cannot be denied that without this band, Victoria would have been a very different place to live. Sure there were bands before them, and there were bands after them, but from 1997 to around 2001 they were the main monster driving force when it came to Victoria Texas punk. I often feel lucky because I was a close friend to them when they started playing, helped with their recordings and planning shows, and my bands often opened for them until they were strong enough to start carrying their own bills. In a way, I cut my teeth with this band.
It is not arguable that there were not better bands, tighter musicians, or even nicer people to be around… but for 5 years, this band changed the game. Sure bands had been playing shows in a town that was overcome with rave Djs, top 40 country bands and even touring Christian groups, but WS had a way of not only booking a show, but also making sure it was filled to to capacity with raving kids. Things that we still use as tactics today.

#1- They had marketing ploys. Fact: their first show was 5 bucks, but if you brought in a flier, it was 2 bucks off. (They didn't bother to tell the band who booked the show this, but they did have a great crowd, so no one seemed to notice) From then on they did shows that promised that girls would get in free (ensuring the dudes would follow) and even named shows with a "fest" at the end of it. No one seemed to notice that "punkfest" was held about 5 times a year.
#2- WS had learned how to survive in a "pay to play" town. When WS did a show, like everyone else in Victoria that wasn't allowed in local bars, they had to rent a club or hall, rent a sound system and still had to find other bands to share the bill. They learned about merch (stickers, shirts, etc.) and often would strike deals with opening bands instead of cash. This allowed them to have local bands play, and instead of having to dish out money for guarantees they couldnt afford, they were able to get stickers, shirts etc made for pennies on the dollar, and that band had merch. This allowed for dozens of local bands to be seen all around town in this time period.
#3- WS was exactly who they seemed to be. In all the years they had been around, Pablo and Scott, the two sole survivors throughout the band's revolving door of support members, never changed. The lyrics of fast dirty living was exactly who they were in real life. I know, I shared a home with them. There were often mornings of walking through sticky kitchen floors (don't wear socks) and dodging drunk passed out people on a Saturday, Sunday or even Monday morning. My best memory of Pablo is him grabbing a roach from the wall of Willow's garage, biting it in half and spitting it at horrified people. Their dvd shows random party people in the Worm house puking into cardboard boxes. Sadly that was not staged, but a typical Friday.
#4- it was exactly the right place and the right time. There was no facebook or social media to fuck it up. These days any fuck with no talent can make crap music with no effort… and blow up. Gone are the days of music with integrity, passion, and drive. In this time period kids in high school and college were fed up and pissed. Now, facebook has made them complacent to just sit at home and only go out if a hundred other people are, unlike this time where the show was the actual meeting place.
Eventually, the bands kept going, metalcore and mall metal became more played and WS slowed down. I wonder what would have happened if they had kept towing the line for just 2 or 3 more years. If they would have thought of another way or ploy to rejuvenate the scene that was dying when Sun Valley closed and WS moved on.

Either way… the legacy that was left was still felt to this day. Bands booking their own shows, merch, flyer art would have been much different without them.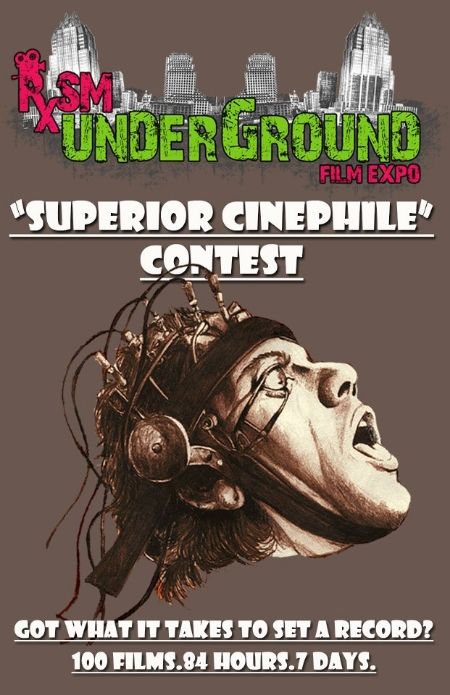 So you like movies huh?
This year RxSM has announced the Superior Cinephile Contest where 5 film addicts will be selected to view 100 films, in 84 hours, over 7 days

Only one will be crowned as the "Superior Cinephile"! Prizes include VIP passes to upcoming film festivals, cash money prize of $100, a sweet customized trophy, and an assortment of goodies provided by their sponsors.
If you are psycho about cinema, think you have what it takes and want to enter the contest please send an email about why you can win the contest (info@rxsm.com) and the good folks at RXSM will select 5 film addicts to compete for the title.
RXSM is March 8th through March 14th from 4pm to 4am. Austin TX.
www.rxsm.org
Hey guys, got some news today concerning Assassin's Creed.
First of all, some stuff in regards to the upcoming DLC, "The Tyranny of King Washington."
As you may know, "The Tyranny of King Washington" takes us into an alternate reality in which George Washington, the hero of the American Revolution, has become the evil king of America, and the only one who can stop him is a Mohawk by the name of Ratonhnhake:ton. (I'm just gonna call him Connor).
Here's the reveal trailer that was released at this past years Video Game Awards.
And this next trailer showcases the new Connor.
By the looks of it, the reality that this story takes place in will portray Connor as if he never interacted with General Washington during the war an played no part in his victory over the British. But we will see. "The Tyranny of King Washington" will be available to download February 19th.
Now, in other Assassin's Creed news. Ubisoft has stated that the next installment in the franchise is in development and is set to release within the next fiscal year. Along with that, Ubisoft also announced that the new title will feature and new Assassin, a new setting, and a new time period.
On one side, I'm a little bummed that Connor is getting the Altair treatment and getting one exclusive game in the series. But at the same time, I'm excited to see where the franchise is going. Early rumors are that the next installment will take place in ancient China, which will be pretty cool, but we will just have to wait and see.
That's all I've got for now. Laters!
Hey Austin, in case you didn't know, you tried so hard to be cool, you became a cliche. Just thought you'd like to know, and you're welcome.  South by so what.
But… if you wanna be so cool the hipsters don't even know about it yet, you can always go to the RxSM underground film expo.
The film fest exists as an alternative for movie fans to get a cinematic experience during the month of March when a certain "other" festival runs. RxSM pushes itself to be even more cutting edge, as it includes films in it's programming that the "other" festival may not include or just have room for in it's program.
The best part is that the fest is created and run by independent filmakers who fight to maintain a voice among the piles and piles of mediocre stuff you will be subjected to in the city of Austin that month.
The showcase will run March 8-14 from 4pm to 4am.
RSVP's are now open for RxSM Film Expo 2013 at Emo's East Plaza.
RSVP at: ( http://www.facebook.com/rxsm.filmxchange )by becoming their friend. Your name will be exported to a private guest list where you can enjoy film screenings, intimate celebrity interaction, and of course unlimited complimentary spirits thanks to their sponsors. This is a private event and you must RSVP to attend.
Programming:
The screening schedule will be announced mid February. All details will be released exclusively via Facebook. So friends this means you can receive up to the minute live feeds of 'whowhatwhenwherehow' at RxSM 2013.
You're welcome. See you there.
website: http://www.rxsm.org
Making their debut on our podcast this week is The Electric Mess with "You've Become a Witch"

Check out another one of their songs with this video that just came out from their new EP!