Bullet Treatment will be releasing a new e.p. via Basement Records on April 30, 2013. The new e.p. titled "Ex-Breathers" will be available in two formats, Digital Download and CD w/ 2 Bonus Tracks.
Their first ever music video will be released soon as well.
This past weekend, we took some time out of the dungeon to head to Austin Texas, the city of swarming hipsters, professional panhandlers, shady nightclub promoters and all around fun times to go to Staple! 2013.
Let's make one thing clear, as much as Austin is filled with pretentious scenesters, condescending vegans, and other daywalkers, Staple! pretty much remains as one of the city's redemption events for me.
For one weekend, creative types get together, exhibit their hard earned self promoted projects with other like minded people and the customers who appreciate it.
Make no mistake, the life of an artist is a hard one. The life of a comic book, zine maker, and shucks even podcast host is a rough one. There are many nights spent putting together your project and not going to the latest party or show. There is a lack of money when it needs to be published and sometimes it makes you wonder if doing anything is even worth it.
That's where Staple! comes into play. The weekend was spent telling people about our project to anyone who would listen… and listen they did. It was not a one way street either as we got to meet so many cool creative and cool people (many of who you will be hearing and reading about in coming weeks). Not just comic makers either, zine printers, jewelry makers, handmade toys and photocopied projects littered tables and hallways.
Many thanks to Scott Free (Apples For Eyes) for making the trek out and sharing our space with us, as well as our table mates Kim Scoulis and her husband Nik for the awesome company and fast food runs. This was our third year exhibiting, and we have no plans to stop. See ya next year Staple!
We are heading to Staple! independent Media Expo tonight for the pre party and will be in town all weekend.

Here's a video we did last year on the event.


On the podcast this week, I had the pleasure of playing the first track from Sleezeland, the new recording project from former Worm Suicide frontman, Pablo Sleeze.
In a few days, I get to share a booth at Staple! Independent Media Expo with Scott Free, former Worm Suicide guitar player in support of his new project Apples For Eyes.
It got me thinking about the band Worm Suicide and what they meant to Victoria's music when they were around…
Love them or hate them, it cannot be denied that without this band, Victoria would have been a very different place to live. Sure there were bands before them, and there were bands after them, but from 1997 to around 2001 they were the main monster driving force when it came to Victoria Texas punk. I often feel lucky because I was a close friend to them when they started playing, helped with their recordings and planning shows, and my bands often opened for them until they were strong enough to start carrying their own bills. In a way, I cut my teeth with this band.
It is not arguable that there were not better bands, tighter musicians, or even nicer people to be around… but for 5 years, this band changed the game. Sure bands had been playing shows in a town that was overcome with rave Djs, top 40 country bands and even touring Christian groups, but WS had a way of not only booking a show, but also making sure it was filled to to capacity with raving kids. Things that we still use as tactics today.

#1- They had marketing ploys. Fact: their first show was 5 bucks, but if you brought in a flier, it was 2 bucks off. (They didn't bother to tell the band who booked the show this, but they did have a great crowd, so no one seemed to notice) From then on they did shows that promised that girls would get in free (ensuring the dudes would follow) and even named shows with a "fest" at the end of it. No one seemed to notice that "punkfest" was held about 5 times a year.
#2- WS had learned how to survive in a "pay to play" town. When WS did a show, like everyone else in Victoria that wasn't allowed in local bars, they had to rent a club or hall, rent a sound system and still had to find other bands to share the bill. They learned about merch (stickers, shirts, etc.) and often would strike deals with opening bands instead of cash. This allowed them to have local bands play, and instead of having to dish out money for guarantees they couldnt afford, they were able to get stickers, shirts etc made for pennies on the dollar, and that band had merch. This allowed for dozens of local bands to be seen all around town in this time period.
#3- WS was exactly who they seemed to be. In all the years they had been around, Pablo and Scott, the two sole survivors throughout the band's revolving door of support members, never changed. The lyrics of fast dirty living was exactly who they were in real life. I know, I shared a home with them. There were often mornings of walking through sticky kitchen floors (don't wear socks) and dodging drunk passed out people on a Saturday, Sunday or even Monday morning. My best memory of Pablo is him grabbing a roach from the wall of Willow's garage, biting it in half and spitting it at horrified people. Their dvd shows random party people in the Worm house puking into cardboard boxes. Sadly that was not staged, but a typical Friday.
#4- it was exactly the right place and the right time. There was no facebook or social media to fuck it up. These days any fuck with no talent can make crap music with no effort… and blow up. Gone are the days of music with integrity, passion, and drive. In this time period kids in high school and college were fed up and pissed. Now, facebook has made them complacent to just sit at home and only go out if a hundred other people are, unlike this time where the show was the actual meeting place.
Eventually, the bands kept going, metalcore and mall metal became more played and WS slowed down. I wonder what would have happened if they had kept towing the line for just 2 or 3 more years. If they would have thought of another way or ploy to rejuvenate the scene that was dying when Sun Valley closed and WS moved on.

Either way… the legacy that was left was still felt to this day. Bands booking their own shows, merch, flyer art would have been much different without them.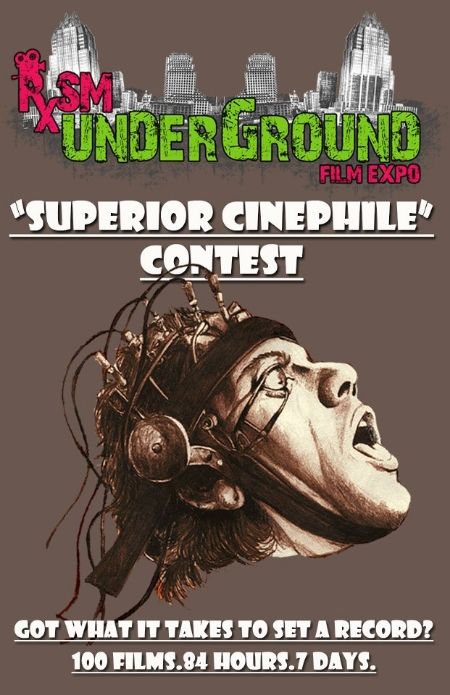 So you like movies huh?
This year RxSM has announced the Superior Cinephile Contest where 5 film addicts will be selected to view 100 films, in 84 hours, over 7 days

Only one will be crowned as the "Superior Cinephile"! Prizes include VIP passes to upcoming film festivals, cash money prize of $100, a sweet customized trophy, and an assortment of goodies provided by their sponsors.
If you are psycho about cinema, think you have what it takes and want to enter the contest please send an email about why you can win the contest (info@rxsm.com) and the good folks at RXSM will select 5 film addicts to compete for the title.
RXSM is March 8th through March 14th from 4pm to 4am. Austin TX.
www.rxsm.org
Making their debut on our podcast this week is Big Bad Meow with "Drink and Regret"
Here is another song from them… enjoy


Les Sales Cons are slated to be musical guests during the after party for the film "Roundball" during the Victoria TX Independent Film Festival…
Formed around two Mcs and Beat makers Mac Traître and La Note, they will arrive with Dj Cut Edge on turntables.

By cultivating a pronounced disgust towards the rest of the world, Les Sales Cons
evoke songs about the manners of young human beings, sex, hypocrisy, stupidity, frustration and disasters, on a cynical, impertinent and sarcastic tone, but always with a critical content.

Les Sales Cons appreciate and don't forget that "the stupidity is the relaxation of the
mind"
Keep an eye out for our interview with Les Sales Cons soon.

Making their debut on our podcast this week is New Mexican Disaster Squad with their song "Tighrope".
Catch a live performance of this song here:


One movie we are especially excited to see at the Victoria TX Independent Film Festival is Ghost Team One.

A hilarious look at the found footage genre and recent stampede of "Paranormal Activity" type movies, this film centers around a pair of not so smart roomates as they find themselves competing over a girl by making a documentary about the hauntings in their house.

Naturally, things get out of hand.