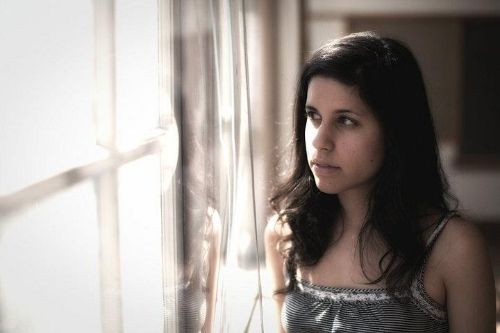 MUST COME DOWN screens Friday April 5 at 6pm
Acknowledging our addiction to video games, pop culture and surreal humor, we here at OMBG have been fans of the popular web series "Hey Ash, Whatcha Playin?" for a while now. The series, created by the sibling duo Anthony and Ashly Burch uses sibling rivalry, social themes, and poop jokes all wrapped up in a video game package.
Ashly's portrayal of herself in the series comes off as manic, off kilter, and quick on the draw makes for very funny comedy.
So when we saw the trailer for "Must Come Down" it took us a second to register the familiar face. Doing a little homework, we discovered Ashly Burch isn't just a wisecracking video game addict, but a writer, actress, and singer with a lot of stuff going on.
Even better, we found out she was going to be in Victoria TX for the Victoria TX Independent Film Fest, so we decided to reach out to her before she got here to scratch the surface on this very funny lady…
TD: We first heard about you by "HAWP", from what I understand it was originally just skits you and your brother started making. Did you ever expect it to take off the way it did?
AB: We really didn't, we were just messing around and Anthony was trying to learn how to use his camera. We didn't realize that people would respond to it as much as they did. But of course we're really happy it panned out like it did.
TD: You maintain a terrific blog called "How Games Saved My Life" which publishes testimonies from gamers and pushes the positive elements of gaming. As a social issue, do you find it is getting more accepted in the mainstream, also do you feel it has peaked or will ever peak and run it's course?
AB: The more time that goes on, the more games become embedded in our culture, and I think that's a trend that's only going to continue. It's slowly becoming a pastime that isn't met with raised eyebrows or pre-conceived notions. The more people that play games, the less they'll be used as a scapegoat for societies ills.
TD: You also did a study called "Gender Redemption" focusing on the female responses to male centered roles and narratives in games. As a female gamer and enthusiast, did you find anything new or unexpected from all the data you collected from various women gamers?
AB: The female experience of the game fell a bit more within gendered lines than I anticipated. The participants were almost all exclusively morally noble in the game, and they enjoyed exploring the scenery on horseback and progressing the narrative, as opposed to engaging in more aggressive, and thus more typically masculine activities, like killing NPCs, setting things on fire, etc. It was a really interesting discovery and helped me develop my own views on gender.
TD: Your role as Holly in "Must Come Down" seems to be a 20 something girl in a critical and messed up time in her life, very unlike your comedic portrayal of yourseld in HAWP, was that a stretch for you?
AB: No, not at all. Holly and Ash are very different characters, but I can see pieces of me in each of them. It's just a matter of accessing those things.
TD: How has the response been to the movie?
AB: It's been very positive. People seem to really relate to Holly and Ashley, and the strange aimless feelings they're working through over the course of the film.
TD: You are also a voice actress, with most recently a credit in Borderlands 2. How does the voice acting experience differ from camera work?
AB: I really like voice acting, because it gives you opportunities to play characters that you wouldn't necessarily be suited for in a theatrical context. I don't think I could pull off a 13-year-old on camera, but my voice can. I would never be cast as a soldier in a live action film, but I was able to lend my voice to Reid in Aliens: Colonial Marines. Of course, there are pros and cons to both forms of acting. All the physical nuances of a live action performance are lost when you're voice acting, and, except for certain rare cases, you don't get to act against anyone when you're performing vocally, which is a big draw and a large part of the fun of a live action shoot.
TD: What projects do you have coming up?
AB: I'm currently in the Game of Thrones parody web series School of Thrones — the last episode airs on March 24th, right before the new season of GoT starts. There's also some voice work that I can't talk about unfortunately, but you'll know when it comes out!
TD: I have to ask. What are you playing now, and what games are you excited for?
AB: Haha, I'm currently playing Binding of Isaac, Spelunky and SimCity and I'm really excited for Battleblock Theater and Bioshock Infinite.
TD: Where can people online go to keep up with you?
AB: I'm most active on twitter (heyashwp) and you can also catch me on facebook and instagram (instagram.com/ashlyburch)
Interview with Rob Perez from Art Slam by Timothy Danger and Brea Guettner.

Listen Now :: Art Slam Interview
For More Information ::  Facebook
Interview with Paul Horn from Cool Jerk by Timothy Danger.
Listen Now :Paul Horn Interview
Cool Jerk
Interview by Timothy Danger with Oh Minnows.
Listen Now : Oh Minnows Interview

Oh Minnows
Members:
Chris Minnow, Steele-Nicholson & soda man
Interview by Brea Guettner with John Lara of Robotbully.com
Listen Now : Robot Bully Interview
Information ::
Robotbully.com – is a site that offers comics drawn up and written by John Lara.
MONSTER VALLEY HIGH — is the first strip to be featured. The horrors of high school never were funnier. It centers around students and faculty –monsters– dealing with everything from overthrowing mind control plots to talking to girls.
BINARY BLUES — Robots. You simply cannot trust these mechanical jerks. These strips chronicle my time among them. These strips are placed among the main run of MVH. Be careful, the robots are watching.
Contact ::
www.robotbully.com
Interview by Timothy Danger with The Ghosts of Texas from Austin, TX.
Listen Now : Ghosts of Texas Interview
The Ghosts of Texas – Cow Punk/Old School Country from Austin, TX.
Members:
JonBoy – Lead vocals, baritone guitar
Andrew – Slide guitar, harmonica, backing vocals
Will – Electric guitar
Eedann – Backing vocals, Washboard, Stompin' box
Curt – Doghouse bass
Bio:
The Ghosts of Texas were formed in 2006 by JonBoy and Curt in a bar in Denton, TX. They were tired of all the bulls*** country music and lamented that no one, save a few intrepid artists (like Wayne "The Train" Hancock), were out there playing real country music. They set about that day trying to right the wrongs that had been done with slap bass, hard luck songs and whiskey. They commissioned th…e services of long time friend and general badass, Andrew, to come on board as a multi-instrumentalist and the band was formed. A couple years of training and playing in Denton and the boys felt it was time to move to a bigger pond. They loaded up their things and moved down to muy fabuloso Austin, TX. Shortly after, they enlisted Eedann to round out the three part harmonies and sing duets, and then the conquest began….
Check out these LIVE videos from the Downtown Bar and Grill show!
Interview by Timothy Danger with The Revival @ The Downtown Bar and Grill in Victoria, TX.
Listen Now : The Revival Interview

The Revival :: Southern Folk n Roll from Victoria, TX.
Members:
Joel Anthony Williamson, Matthew Melik Garrett, Andrew Lindsey Davis, James Edward Williams
Bio:
The Revival was born early 2010 with a goal to express themselves in an independent but rooted way. Their classic rock and folk influences, combined with an interesting modern twist, makes an unforgettable sound that stamps itself in the head of the listener. A warm acoustic rhythm guitar, a piercing electric lead, and a solid rhythm section makes this soulful four piece an experience everyone can enjoy.
Contact:
therevivalmusic.com
Facebook
Interview by :: Josh Massie, Allynn Garcia, and Justin Conway from "The Whale"
Listen Now: Interview with The Bluebonnet Plague
Interview with Matt and Josh at the Pirate Ship
Listen Now:Interview with Trace from BBP
Interview with Trace over speaker phone at the Pirate Ship

The Bluebonnet Plague – Punk from McQueeney, TX.
MEMBERS ::
Matthew Grimm – Percussion, vocals
Josh Menchaca – Guitar, vocals
Trace Ronning – Bass, vocals (absent)
BIO ::
The Bluebonnet Plague was a band once.
Now, it's a band again.One night, Josh and Trace were at a show, and then they started talking about writing music, and Josh said that he'd been practicing with Matt again. Trace offered to come play bass with them, and within a week, the Bluebonnet Plague was back in action with a new lineup. The three began rehearsing some old songs while writing new ones, and debuted the new lineup in December 2010.
Trace left us early 2011. Now Josh and Matthew play as a two-piece.