Interview with Paul Nasty from Pride Kills by Timothy Danger.
Paul and Tim discuss past bands, the Victoria scene then and now, as well as throwing in some Pride Kills news and history.
Listen Now : Interview with Paul Nasty
Interview with Ashly Burch and Kenny Riches from Must Come Down at VTXIFF 2013 with Timothy Danger.
Listen Now :: Must Come Down from VTXIFF

Ethan Minsker of The Antagonist Movement out of New York sits and talks with OMBG about the project, what he does, and upcoming projects.
Interview by Timothy Danger.
Listen Now :: Interview with Ethan Minsker
Rubio and Crispy from The Antagonist Movement sit down with us to talk about the movie "The Dolls of Lisbon" and their projects.
Interview by Timothy Danger.
Listen Now :: Antagonist Movement Interview
We met up with Ted from Never Records and Jason who directed the film NEVER RECORDS YOU ARE NOT LISTENING, to talk a little about the movie which made it's first ever debut last night.
In true NEVER RECORDS fashion, he recorded it using his equipment and cut it to vinyl.
Interview by Tim Danger.
Listen Now :: Interview with Never Records
Making their way to the Victoria TX Independent Film Fest is Les Sales Cons, a French based comedic hip hop group invited to Texas to perform at the Roundball afterparty on Friday April 5th at the Golden Gecko. Les Sales Cons is a featured artist on the Roundball soundtrack and their performance is being recorded live as part of the festival's many unique activities that incorpate festival goers with not just film, but music and art to engage participants.
Les Sales Cons took time out to talk with Timothy Danger of OMBG about the group and coming to the film fest.
TD: Let's talk band history. How did you guys form?
LS: It's a very old story…
The band formed because we don't have anything else to do… (laugh)
It was the time when everybody in the world did rap, and also in a very easy way especially in France.
So we decide to create a rap band against rap and to do it in a easier way by bringing the old manner of rapping (I mean with real topics of society and a different flow) but in a real sarcastic and a critical way.
So the band born more or less like a joke.
All members of the band are musicians, Mac Traitre is guitarist and La Note is Bassist and percussionist, so we want to have a first concert to know what the impact could be on our city.
And surprisingly, it worked… People started to talk about us and to spread the word that a new white trash rap band was born. So we kept on until now and also we succeed in bringing our instruments we play live on stage and to give a real comical way (stand up way) to our show (in French).
TD: Tell us about your songwriting process. Humor seems to play a big part in your video, is that something you do to stay different from others?
LS: Absolutely YES, we wanted to be serious on such subjects and to say the reality in a such manner but always by trying to be funny and extravagant…
In fact as you know when you're talking a joke you have to be serious instead of laughing, if not the joke doesn't work.
So we play between the 1st and the second degree and sometimes people wonder if we are serious or not when they listen our songs…
TD: The motto "We rap out loud what nobody is thinking" is an interesting one, what are some of the themes or topics you tackle with your songs?
LS: The topics are based on true events, or they born from a frustration that could be sexual or financial or political. Basically the very first topics were about sex (like "Nichons" or "Par le cul y a moyen?"), and other texts were made by automatic writing (Rien d'Utile), but now we also tackle with other subjects like cannibalism, suicide, politics, consumption, discrimination, society…
TD: Do you think your music is a good way to get your point across and maybe get others to agree, or do you think you just do it for personal satisfaction?
LS: We don't care if people are agree or not on what we say, we just do it for fun and we want that our audience has fun too.
It's like to say "Stop thinking for a moment, stop being serious for a while, and have some fun with us and people around you".
Our point is maybe to say to people, think what you want and say what you want, don't be afraid of what you are.
TD: Will this be your first time in the United States or Texas? What are you most looking forward to?
LS: Yes, first time ever, so we're very exited to be in the USA and especially in Texas.
The most we're looking forward is fun, guns, food and bitcheeeeeees (laughs)
Seriously we're happy to do that concert in Victoria, and to see what could be our impact on an American audience, but all our songs are in French, so we will see.
TD:How is the music scene where you are at? What's the most memorable thing that has happened to you there?
LS: Well, we live in Strasbourg (the European capital because of its European institutions) in France, it's a very little town with about 200 000 people in the downtown and 500 000 with the surroundings.
But even if it's not too big, the music scene is very eclectic. You can find 3 main places for doing shows and also we have the biggest Zenith (it's like the biggest place to do shows) in France.
But the city is a very cultural one with a lot of young people, because of the universities, and you can do show also in bars.
The most memorable things that happened to us, we thought about 3 things.
The first was in Strasbourg when we're playing a song (Nichons or Tous des cons, we don't remember), there was a girl in the public who started to cry and to throw a plastic glass full of beer to us on stage and she was screaming "why do you say that? Why do you say that?" It was very funny, but we never understood her reaction, because we don't want to hurt anybody in our songs…
The second one was always in Strasbourg when for the first time we bring on stage 2 girls for dancing with us and get undressed, but also our instruments (guitar, bass and percussions played by the two Mcs) and we also buy some confetti tubes for the show. It was few days before Christmas and all the people were costumed and at the end of our show a good part of the people get on stage and ended the show with us. It was a really good mess. We enjoy a lot that show.
The third one happened in a little village called Landsberg always in France, when the band was very young and not so known. We play in a little bar with no stage and with about 30-50 peoples in front of us. And the amazing part was that all the peoples knew almost all of our songs and they song with us all along. It was very surprising.
TD: What are the best ways for people here in the US to find your music?
LS: You can use Deezer to find out our music or also reverbnation.com/lessalescons or myspace.com/lessalescons.
We've done 3 video clips that are on youtube: Rien d'Utile, Dans nos filets, and La Grande Bouffe. And also a promotional one for our album "Mettez-vous des claques!" (Slap yourselves in the face!)
But the best is on facebook "Sales Cons".
Our label based on Toulouse failed, so we have a lot of CDs to sell, and facebook it's the best way for us to do that. So if you're interested send a PM to us
TD: What are your future plans for after the film festival?
LS: Nowadays we're all juggling with jobs and side projects, and also because the label failed, we're asking to ourselves if we have to keep on or not.
We have also ideas for a new album, lyrics are made and also some of the music, so we are open to all propositions…
Interview with Boris Castro and Karla Lemus by Timothy Danger.
Listen Now :: Breakin' LA Interview
Boris and Karla are German filmmakers who are in Victoria TX this month to showcase their latest film "Breakin' LA" which is a documentary on a group of German riders who decided to experience LA on their bicycles.
They are also advocates and art supporters in their native country, with Boris publishing READ magazine and organizing the Radar Film Fest in Hamburg.
Boris and Karla took some time out to talk to us about, bikes, art, and doing something in your local city to get an art movement to happen.
For more information about the Film and it's creators go to :: www.breakin-la.com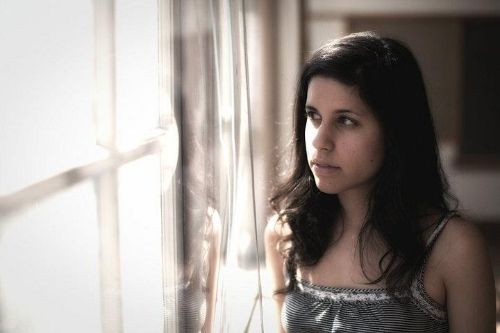 MUST COME DOWN screens Friday April 5 at 6pm
Acknowledging our addiction to video games, pop culture and surreal humor, we here at OMBG have been fans of the popular web series "Hey Ash, Whatcha Playin?" for a while now. The series, created by the sibling duo Anthony and Ashly Burch uses sibling rivalry, social themes, and poop jokes all wrapped up in a video game package.
Ashly's portrayal of herself in the series comes off as manic, off kilter, and quick on the draw makes for very funny comedy.
So when we saw the trailer for "Must Come Down" it took us a second to register the familiar face. Doing a little homework, we discovered Ashly Burch isn't just a wisecracking video game addict, but a writer, actress, and singer with a lot of stuff going on.
Even better, we found out she was going to be in Victoria TX for the Victoria TX Independent Film Fest, so we decided to reach out to her before she got here to scratch the surface on this very funny lady…
TD: We first heard about you by "HAWP", from what I understand it was originally just skits you and your brother started making. Did you ever expect it to take off the way it did?
AB: We really didn't, we were just messing around and Anthony was trying to learn how to use his camera. We didn't realize that people would respond to it as much as they did. But of course we're really happy it panned out like it did.
TD: You maintain a terrific blog called "How Games Saved My Life" which publishes testimonies from gamers and pushes the positive elements of gaming. As a social issue, do you find it is getting more accepted in the mainstream, also do you feel it has peaked or will ever peak and run it's course?
AB: The more time that goes on, the more games become embedded in our culture, and I think that's a trend that's only going to continue. It's slowly becoming a pastime that isn't met with raised eyebrows or pre-conceived notions. The more people that play games, the less they'll be used as a scapegoat for societies ills.
TD: You also did a study called "Gender Redemption" focusing on the female responses to male centered roles and narratives in games. As a female gamer and enthusiast, did you find anything new or unexpected from all the data you collected from various women gamers?
AB: The female experience of the game fell a bit more within gendered lines than I anticipated. The participants were almost all exclusively morally noble in the game, and they enjoyed exploring the scenery on horseback and progressing the narrative, as opposed to engaging in more aggressive, and thus more typically masculine activities, like killing NPCs, setting things on fire, etc. It was a really interesting discovery and helped me develop my own views on gender.
TD: Your role as Holly in "Must Come Down" seems to be a 20 something girl in a critical and messed up time in her life, very unlike your comedic portrayal of yourseld in HAWP, was that a stretch for you?
AB: No, not at all. Holly and Ash are very different characters, but I can see pieces of me in each of them. It's just a matter of accessing those things.
TD: How has the response been to the movie?
AB: It's been very positive. People seem to really relate to Holly and Ashley, and the strange aimless feelings they're working through over the course of the film.
TD: You are also a voice actress, with most recently a credit in Borderlands 2. How does the voice acting experience differ from camera work?
AB: I really like voice acting, because it gives you opportunities to play characters that you wouldn't necessarily be suited for in a theatrical context. I don't think I could pull off a 13-year-old on camera, but my voice can. I would never be cast as a soldier in a live action film, but I was able to lend my voice to Reid in Aliens: Colonial Marines. Of course, there are pros and cons to both forms of acting. All the physical nuances of a live action performance are lost when you're voice acting, and, except for certain rare cases, you don't get to act against anyone when you're performing vocally, which is a big draw and a large part of the fun of a live action shoot.
TD: What projects do you have coming up?
AB: I'm currently in the Game of Thrones parody web series School of Thrones — the last episode airs on March 24th, right before the new season of GoT starts. There's also some voice work that I can't talk about unfortunately, but you'll know when it comes out!
TD: I have to ask. What are you playing now, and what games are you excited for?
AB: Haha, I'm currently playing Binding of Isaac, Spelunky and SimCity and I'm really excited for Battleblock Theater and Bioshock Infinite.
TD: Where can people online go to keep up with you?
AB: I'm most active on twitter (heyashwp) and you can also catch me on facebook and instagram (instagram.com/ashlyburch)
Interview with Stohead by Timothy Danger.
Listen Now :: Interview with Stohead
Stohead is a German artist who uses a style heavily borrowed from old school hip hop, punk, urban street and graffiti art. Using the age old technique of graffiti tags, updating them in different media, and using text to repeat patterns over, he has been able to share his work in Germany, France and Brazil.
He is in the United States for the first time, and the Victoria TX Independent Film Fest is proud to showcase his first American Art Exhibition.
For more information on Stohead, visit his website :: www.stohead.com
Interview with Rob Perez from Art Slam by Timothy Danger and Brea Guettner.

Listen Now :: Art Slam Interview
For More Information ::  Facebook