Interview by Josh Massie with Tigers Jaw from Scranton, PA.
Listen Now : Tigers Jaw Interview
Interview
Tigers Jaw from Scranton, PA.
Members:
adam
ben
brianna
dennis
pat
Interview by Timothy Danger with The Ghosts of Texas from Austin, TX.
Listen Now : Ghosts of Texas Interview
The Ghosts of Texas – Cow Punk/Old School Country from Austin, TX.
Members:
JonBoy – Lead vocals, baritone guitar
Andrew – Slide guitar, harmonica, backing vocals
Will – Electric guitar
Eedann – Backing vocals, Washboard, Stompin' box
Curt – Doghouse bass
Bio:
The Ghosts of Texas were formed in 2006 by JonBoy and Curt in a bar in Denton, TX. They were tired of all the bulls*** country music and lamented that no one, save a few intrepid artists (like Wayne "The Train" Hancock), were out there playing real country music. They set about that day trying to right the wrongs that had been done with slap bass, hard luck songs and whiskey. They commissioned th…e services of long time friend and general badass, Andrew, to come on board as a multi-instrumentalist and the band was formed. A couple years of training and playing in Denton and the boys felt it was time to move to a bigger pond. They loaded up their things and moved down to muy fabuloso Austin, TX. Shortly after, they enlisted Eedann to round out the three part harmonies and sing duets, and then the conquest began….
Check out these LIVE videos from the Downtown Bar and Grill show!
Interview by Timothy Danger with The Revival @ The Downtown Bar and Grill in Victoria, TX.
Listen Now : The Revival Interview

The Revival :: Southern Folk n Roll from Victoria, TX.
Members:
Joel Anthony Williamson, Matthew Melik Garrett, Andrew Lindsey Davis, James Edward Williams
Bio:
The Revival was born early 2010 with a goal to express themselves in an independent but rooted way. Their classic rock and folk influences, combined with an interesting modern twist, makes an unforgettable sound that stamps itself in the head of the listener. A warm acoustic rhythm guitar, a piercing electric lead, and a solid rhythm section makes this soulful four piece an experience everyone can enjoy.
Contact:
therevivalmusic.com
Facebook
Interview by :: Josh Massie, Allynn Garcia, and Justin Conway from "The Whale"
Listen Now: Interview with The Bluebonnet Plague
Interview with Matt and Josh at the Pirate Ship
Listen Now:Interview with Trace from BBP
Interview with Trace over speaker phone at the Pirate Ship

The Bluebonnet Plague – Punk from McQueeney, TX.
MEMBERS ::
Matthew Grimm – Percussion, vocals
Josh Menchaca – Guitar, vocals
Trace Ronning – Bass, vocals (absent)
BIO ::
The Bluebonnet Plague was a band once.
Now, it's a band again.One night, Josh and Trace were at a show, and then they started talking about writing music, and Josh said that he'd been practicing with Matt again. Trace offered to come play bass with them, and within a week, the Bluebonnet Plague was back in action with a new lineup. The three began rehearsing some old songs while writing new ones, and debuted the new lineup in December 2010.
Trace left us early 2011. Now Josh and Matthew play as a two-piece.
Phone Interview with Bones from Lower Class Brats
Listen Now: Lower Class Brats Interview

Lower Class Brats – Street Punk from Austin, TX
Members:
BONES DELARGE- Vocals
MARTY VOLUME- Guitar
JOHNNY O. NEGATIVE- Bass
JOEY THE KID- Drums
Bio:
Unlike most band stories, the story of the LOWER CLASS BRATS did not start out "innocently enough". It was more like a full-blown attack on their local music scene. The war started in January 1995 in Austin, Texas when the BRATS set out to destroy all of the emo, college and garage bands that had some how taken over their city. Many years, countless beers and drug additctions later, the boys are s…till waging war. Not just in their hometown though, with the help of fans world wide they've set out to take over the planet. In the time that the LOWER CLASS BRATS have been pounding out their own brand of Rock N' Roll Street Noize they have released a fuck-load of CD's, LP's, 12″'s, and 7″'s. Including appearances on several compilations, live DVD's and soundtracks in two different films (nudge, nudge- wink, wink). In the past decade the BRATS have toured the globe. Mexico, Germany, North America, Canada, England, Japan, France and many, many other countries have witnessed the boys in action. And the LOWER CLASS BRATS don't seem to be slowing down any time soon. From their first gig over fourteen years ago, to this day- L.C.B. always steals the show.
Contact:
Facebook
Listen Now: Interview with Sloppy Seconds
Interview recorded at Red 7 in Austin, TX.

Sloppy Seconds – Junk Rock
Members:
B.A. — vocals
Ace "Spice" Hardwhere — guitars
Bo'Ba Jam — bass
Steve Sloppy — drums
Bio:
Sloppy Seconds is a Ramones/Dickies-influenced punk band from Indianapolis that started in the mid-1980s. With such underground hits as "Come Back, Traci" (a tribute to an underaged Traci Lords), "I Want 'em Dead", and "So Fucked up", the band prefers to sing about such topics as pornography, classic horror movies, old TV shows, comic books, alcohol, being fat, and getting drunk. They have been quoted as being proud to be fat, drunk, and stupid. Their name is the slang term for when a man has intercourse with another person who already has received another man's semen in the relevant orifice.
Contact:
Listen Now : Return to Cinder Interview
Interview Recorded at the KBAR BQ in Victoria, TX.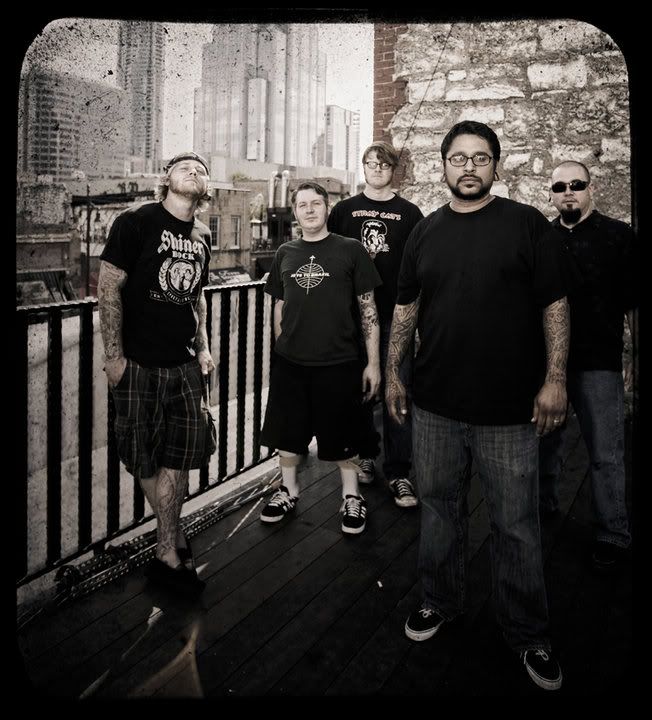 Return to Cinder – Victoria, TX
Members:
Colin Rabke – Vocals
Billy Meyer – Guitars Vocals
Scott Free – Guitars Vocals
Mike Arguellez – Bass Vocals
Felix Quintanilla – Drums Vocals
Bio:  Members of South Tx's Worm Suicide, AR-15, Frontline, Pride Kills, and Will to Live combine to create this mash of melodic punk/hardcore influenced sounds.