Listen now: Neal's Acoustic Journey Interview
Neal's Acoustic Journey Interview
Recorded at Downtown Bar and Grill – Victoria, TX
Neal's Acoustic Journey – Singer/Song Writer – Cuero, TX
Bio:Neal's Acoustic Journey was established in 2006 as a side project for Neal. While most of his time was concentrated on the full band of Donations, Neal recorded a few acoustic songs and completed his first cd, "Come and Join." The CD included 10 songs filled with love and solemn songs.After a successful CD release and a 10 day tour of Texas with The Loveletter, Neal decided to revamp his own project, Neal's Acoustic Journey." While the music still consists of the common themes of before, Neal has matured musically. Thus, the new music is born.
Contact Information:
www.myspace.com/nealsacousticjourney
www.facebook.com/nealsacousticjourney
www.reverbnation.com/nealsacousticjourney
twitter: @nealsacousticjo
Listen now: The Burns Interview
The Burns Interview
Recorded at Fitzgerald's on February 5, 2011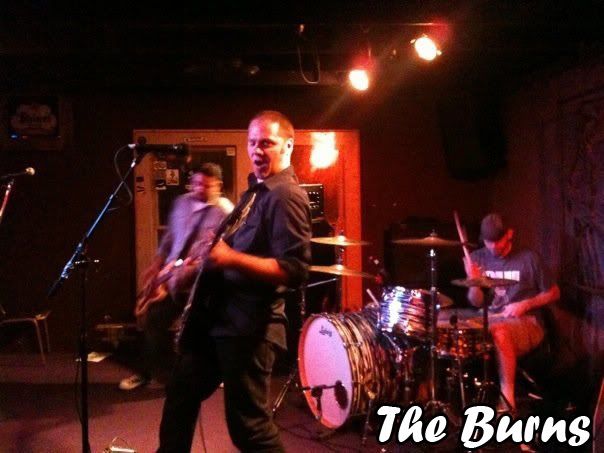 The Burns – Houston, TX
Members:
Simon Reynolds – guitar, vocals and songs in slack "D"
Steven Taylor – drums and songs in "B"
Lawrence Cevallos – bass, backing vocals, suggestions and concerns in all keys
Bio: Formed in the summer of 07 we are a by product of the Texas bands, Simpleton, Dive and Donkey Punch. Our sound is a product of a variety of musical interests varying from classic country to hard rock. Our set consists of both electric and acoustic material.
To Contact the Burns:

Listen now: Fuska Interview
Fuska Interview
Recorded at Fuska's Practice Studio in Houston, TX
February 5, 2011
For photos related to this interview, CLICK HERE.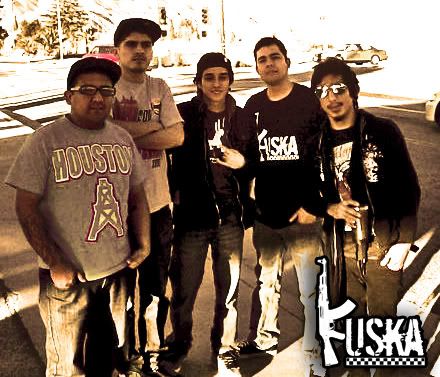 Fuska – Ska/Punk/Fuskacore band from Houston, TX
Members:
Vocals- Andy D.
Bass- Isaac R.
Guitar- Joey M.
Drums- Julio B.
Organs- Rick M.
Bio: UNIQUE SOUND that is starting to just be described as FUSKACORE. Ripping guitar riffs, heavy dynamic drums, slapping bass, vocals from the soul, recently added to the sound are the organs. All this makes a really CATCHY sound that you will be humming all day long.
FUSKA IS EVOLVING! They already released a full length album (NEVER TOO LATE TO CHANGE) in just 6 months and our coming out with SPACE CITY MOONSTOMP EP this February. They formed in March 2010, in less than a year they have come up with a lot, and are adding more to the sound. Just goes to show that these guys are very productive and they don't mess around. No signs of this band being a today band. They will be around for awhile and will not leave till the name FUSKA is a part of the ska scene. The members are all close. From being family members or either childhood friends. Tell us what you think of this band.
Contact Fuska:
http://www.myspace.com/fuska713
http://www.facebook.com/#!/Fuska.Houston?v=wall
fuskablast@gmail.com
Listen now: Young Girls Interview
Young Girls Interview
Recorded at Downtown Bar and Grill in Victoria, TX
Young Girls – Indie-Pop band from Houston, TX
Members: Charlie, Luis Carlos, and Pete
Bio: Along with like-minded Texans Fergus & Geronimo and Teenage Cool Kids, Houston's Young Girls make tuneful, polaroid-quality garage pop that feels impassioned and sincere without losing a certain tongue-in-cheek self-awareness. The not-so-recent-surge of retro pop-punk encompasses a range of themes that is, generally speaking, not bottomless: last nights, girls, summer/bummer, you/blue. But like a perfectly faded pair of denim, some things never lose their appeal. -DONTDIEWONDERING
The last band on was Young Girls. I talked to them a little before the show and apparently it was only their second or third show together but they definitely brought it. They had a tight, clean, well-composed indie-pop sound that made me want to dance during their entire set. Young Girls did a very good job using their bass playing effectively and used it to produce complex melodies when compared to an average indie band.- POST PUNK'D
To Contact the band Young Girls:
younggirlsmusic@gmail.com
www.myspace.com/thoseyounggirls
www.facebook.com/younggirlsmusic
Listen now: Treachery of Others interview
Treachery of Others Interview
Recorded at Downtown Bar and Grill in Victoria, TX after OMBG's Birthday Bash.
December 18, 2010
Treachery of Others – "Osmophoric" Indie band from Austin, TX
Members:
Baird Blanton
Johnny Molinari
Walter Kuhn
Joe Ben Clark
Theo Alexander
Contact Information:
www.youtube.com/treacheryofothers
www.facebook.com/treacheryofothers